We had a great weekend in St. Louis, except for our team losing two out of three.
J and I went to three games: Friday night we'd gotten our usual not-so-great seats a long time ago, then Saturday we splurged on Really Good Seats (padded seats! waitresses!), and fairly good ones Sunday as well.
Friday there was a long rain delay, but eventually the rain stopped and the game commenced. That's the night that 'our' team, the Atlanta Braves, actually won! Go team.
View from upper deck Friday night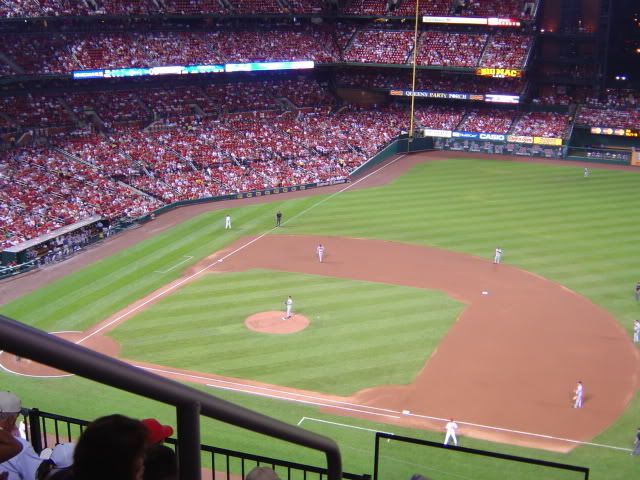 Saturday we drove to a neighborhood we like (the Loop) and ate at a restaurant we like (Fitz's) and did a bit of shopping before hitting Starbucks (caffeine yay!) and heading back to the ballpark in time for batting practice. I hadn't been to BP before. It was neat.
Here are some guys hanging around the outfield during BP. Second from left is former catcher and currend Braves coach Eddie Perez, and far right is pitcher John Smoltz.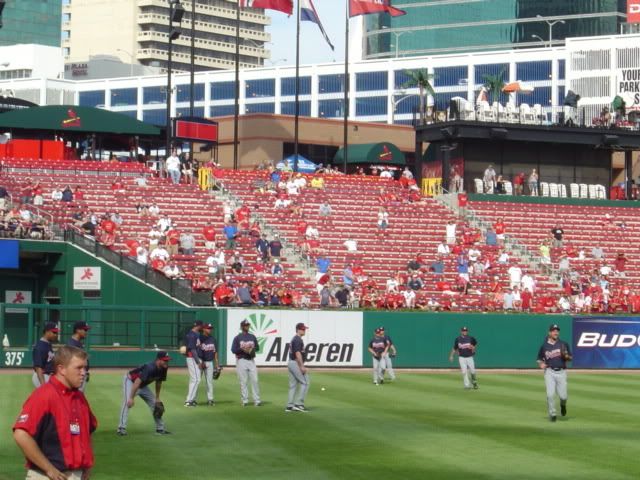 You could get WAY DOWN close to the field!
So people stood at the wall (which is padded so the players don't hurt themselves too much) and watched the players hit and field.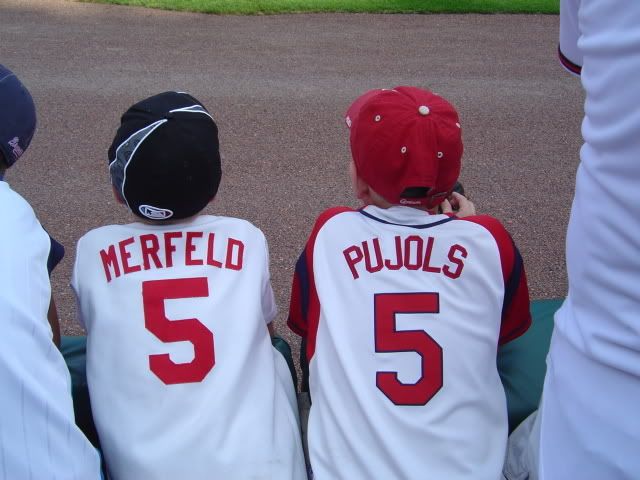 We almost met John Smoltz. Which was very awesome, if not quite as awesome as almost meeting The Edge. Smoltz is one of our favorite players and their number one pitcher. He's really great.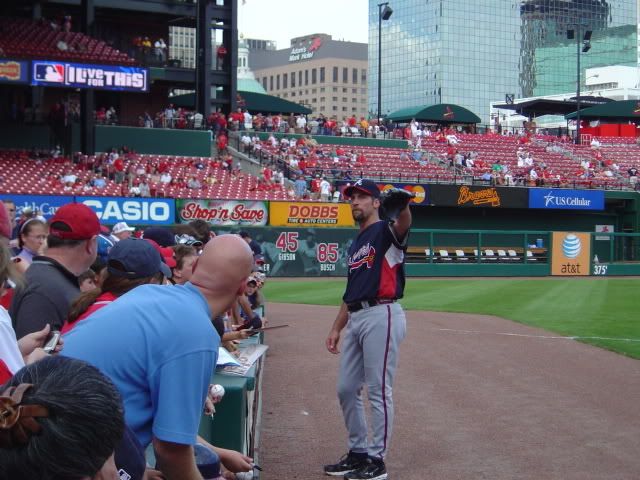 But pitcher Lance Cormier - who only got his first win of the season
tonight,
he's our five-spot guy with like a nine-something ERA - was the only Brave to come sign autographs, and he did so for like half an hour and joked and teased with the kids, talked to people, etc. He was super nice, signed our tickets, teased people who hadn't brought a Sharpie ("What ya doin' coming to the ballpark without a Sharpie, dude?"), etc. First time I've met a ball player. Here's J with him.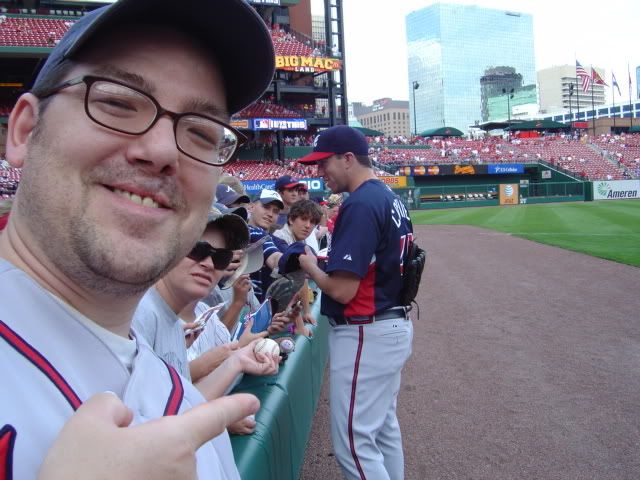 Then we were able to peek into the dugout as the game was starting. You can see Matt Diaz and Reyes on the left, then center fielder Andruw Jones with his foot up, manager Bobby Cox, trainer Jeff Porter, coach Glen Hubbard talking to (hidden) famed third baseman Chipper Jones on the bench, and, closer, right fielder Jeff Francouer.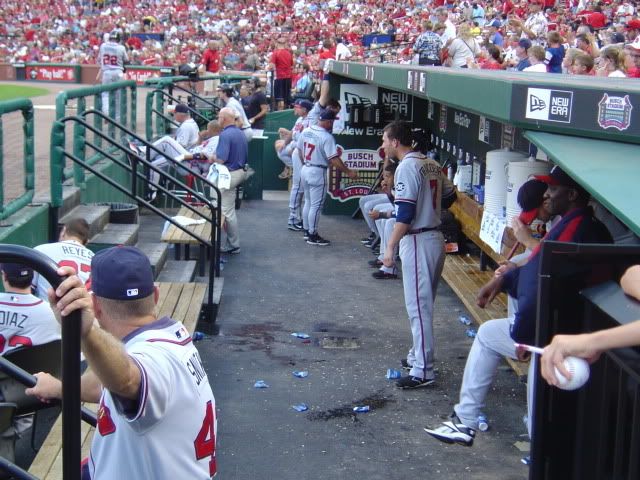 It was a beeeyoootiful night for baseball, though.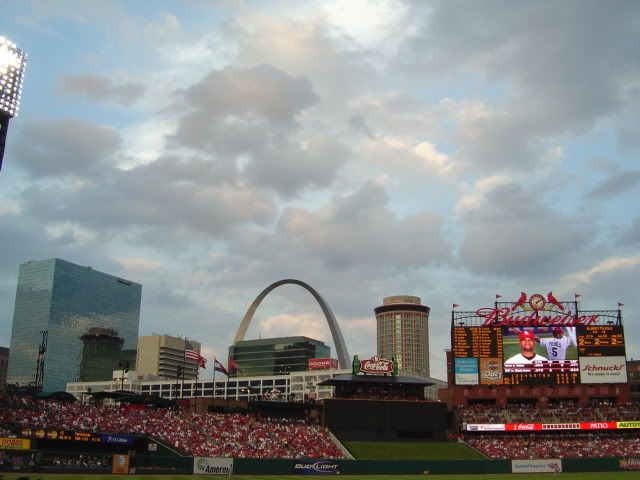 Starting pitcher Tim Hudson and catcher Brian McCann coming back from the bullpen to start the game.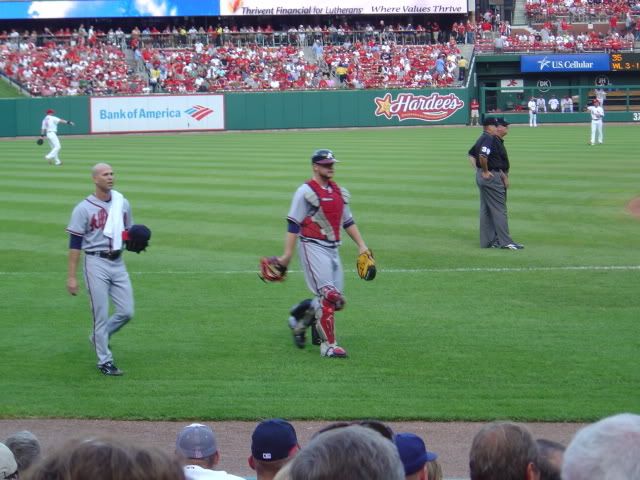 Unfortunately, though it was a beautiful night for baseball, soon enough it was time for J to put on the rally cap.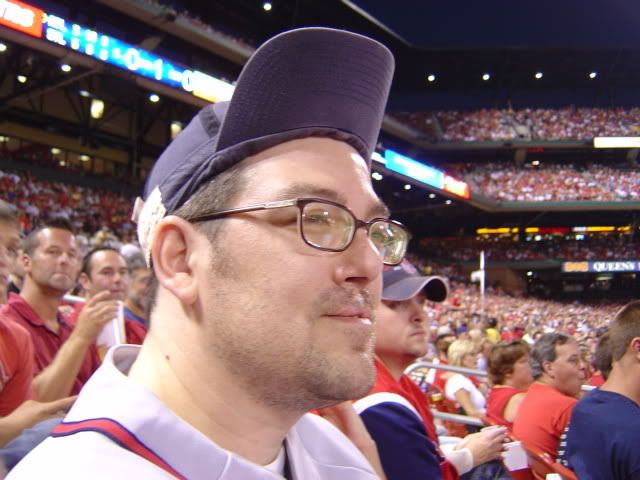 We lost Saturday and lost again Sunday. ugh. Sunday it was blistering hot. I slathered on the sunscreed and lucked out on the sunburn front. Poor J won't use my spf 55 because he wants some color, and if normal people used my sunscreen they'd probably actually get whiter. *is albino* I always say my people evolved in an overcast climate. So he got burned, but I only got burned in the part in my hair. I actually went inside and looked at baseball hats, it was so hot, but the caps were all like $25-30, so no. It was too hot for beer, even. I never thought I'd hear myself say that. But we stayed hydrated with water, cokes, and (later) lifesaving frozen lemonades.
The boy in front of us cooled down with a refreshing iced drink.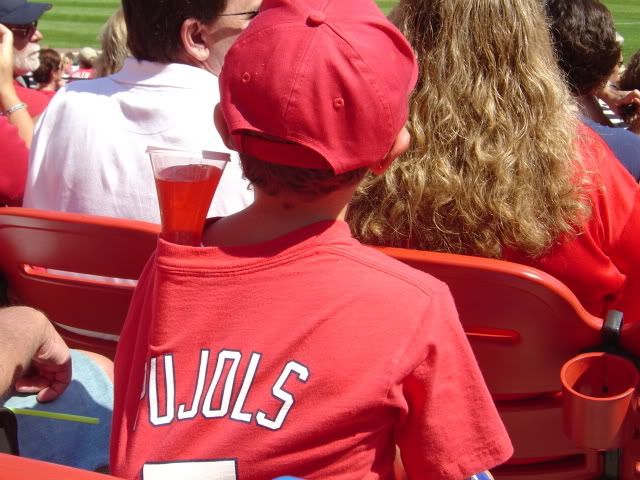 I find Fredbird kind of demonic.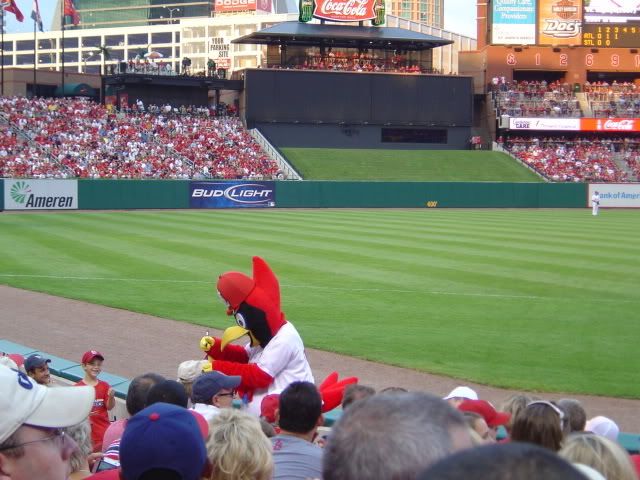 One more note: Busch Stadium has the best veggie burgers I've ever had. They're so good J orders 'em, and he's not a vegetarian. They're meaty style in the fashion of Boca, but thicker and actually more beefy and realistic. And you can even get 'em with lettuce, pickle, onion, and stuff. omg. I told J on Friday night that I was going to have one of 'em every day, although I didn't. PLUS they're only like $4.50, which is less than beer, closer to the cost of nachos or a mere pretzel, but healthy and yummy! I wish I could buy this brand at the grocery store. umm.