We've had a good week or so for music. Saturday we hit the Taste of Downtown - for awhile during the day, then we went back at night. The Romantics were so much worse than we'd even anticipated, but that's not really what we were there for - I really wanted to see
the Bottle Rockets
. Even though we love alt-country and roots music, and even though we both love Tupelo and Wilco, for some reason we've just never really given the BR that chance. Well, at first we thought their songs were a little undifferentiated, the way things sometimes are when you're not familiar with any of a band's work. But as the night went on (did I mention we were drinking?) some songs did stand out from others for me and I liked them more and more, so I'll definitely check them out again/buy a cd/whatever.
Then the
Jason Isbell
solo album came out. I haven't even had a chance to listen to that yet, but I'm thrilled to have it. While I was at
Recycled
, I picked up the
Amy Winehouse
cd - I know my mother does not (and will never) have it, so I'm not the last person on earth to have it, so that's good. I've been listening to that in the car. I especially liked the first two tracks, Rehab and You Know I'm No Good. I also snagged
Delores O'Riordan's
solo cd - she's the lead singer from The Cranberries. I haven't had a chance to put that one in either.
Tuesday we went to the
Avett Brothers
show. I only knew what I'd read in No Depression, so I guess I was expecting a kind of
Old Crow Medicine Show.
Which I'd have liked. Also, knowing nothing about them and having heard nothing, we hesitated to spend $20 EACH on tickets, so I entered us both to win a pair at WUIS.
We
both
won.
So I asked WUIS to give the extra pair back to someone who hadn't won, and they did so.
Anyway. No disrespect, I do like to support local music, but I'll just say that Big Fur seemed miscast as opener for that lineup, and their sound wasn't very good either, I'm afraid.
"My name is 'Chittlin,'" the
girl in a dress and pretty Mohawk
said.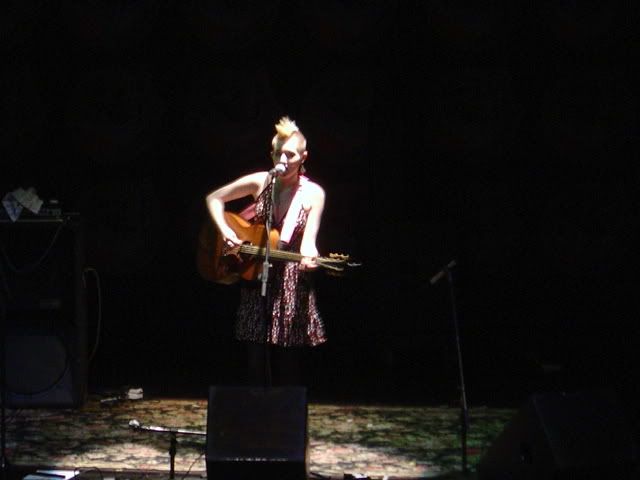 She was really good and an immediate contrast: a serious singer/songwriter following a bar band, a clean, simple sound and clear voice following a kind of muddy busyness. She was shy and quiet afterward when we bought her cd and told her we liked it, too.
The Avett Brothers won me over immediately. Granted, playing so hard that you go out of tune all the time, break strings all the time, and lose your fingerpicks all the time indicates that your sound is suffering. But their harmonies and professionalism and energy were just outstanding. And their sound was smoking. I noticed that their own sound guy took over. They had a blistering hot mix. And enthusiastic fans who'd followed them from Ohio and Missouri and wherever, breaking out into hooting and screaming and requests at every opportunity.
J said they were like a civil war punk band. What kind of bluegrass band has a kick drum? What kind of rock band has a cellist? I don't have the least idea what the hell they are, except exactly what I like. Color me converted, yo. I'd keep an eye out for these guys; they'll be at big festivals in no time.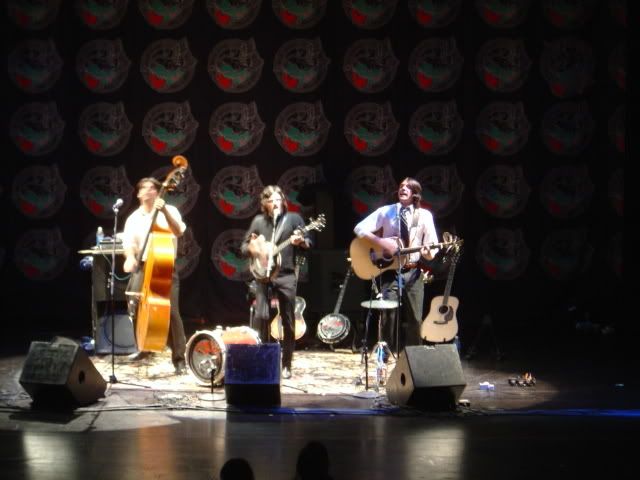 Edit: what the heck is up with my links? blogger "help" was no help.