Drive By Truckers, Robert Randolph, and Black Crowes, Friday, June 23, IMB Bank Pavilion, St. Louis.
We made sure to be plenty early because we just saw the Crowes not that long ago and we were really in it for the Truckers, even though they were first and it would only be about half an hour. So J had gotten us seats that were pretty decent for the place, dead center but in the second section, not the very front. Still, $20, so hey. We were pretty happy.
Still, you hope a band you like gets a good reception, and there weren't many people there for the Truckers. In fact, the Good Section was very empty (although there was some sort of VIP GA action down there that we never really figured out). So I thought, you know, J and I are terrible at sneaking or boldfacing our way into better seats; I've had a large beer; I'm just going to
ask.
So I asked the bouncers in the front of our section, you know, we really love the Truckers and we'll move when the people come whose seats they are, but I just wondered whether my husband and I could just ...? The bouncers were kind of frowny about it, but a security guy overheard and pointed me to a security woman at another section and told me to go ask her. So I went and asked
her
, and she said she'd ask a manager but she didn't think it would be a problem but she'd come back and let us know. I pointed out where we were sitting and went back to wait anxiously, and about that time the Truckers started. This is where we were sitting: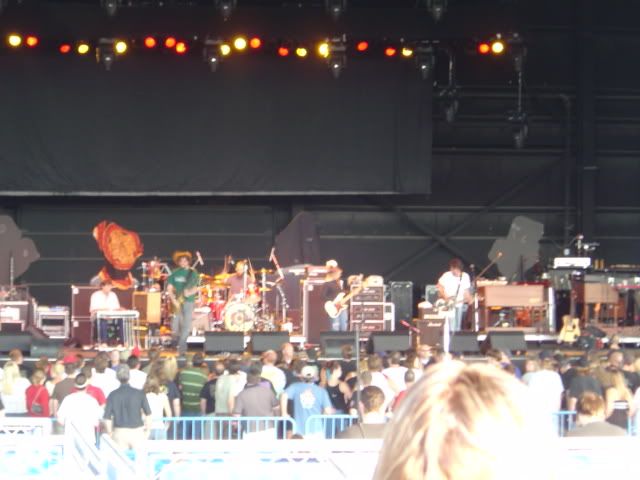 Anyway, after they'd started she came back and said the manager was getting back to her and someone was sick and they had to take care of that first. But then she
did
come back and took us off to the side and down and into the front section and told us just to grab a seat in this particular row, so we did. She walked us in past the bouncer at the end and in front of the bouncers at the back. So yay! These were the new seats - less central, but much closer.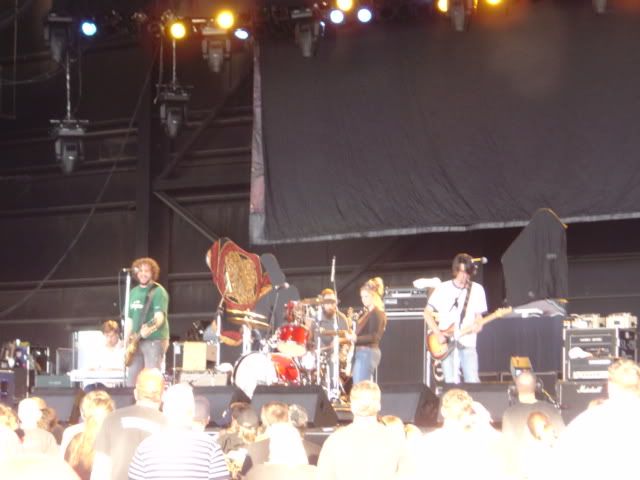 The Truckers were
great.
I'd forgotten my Set List Notepad (tm), but they started with "Heathens" and ended with "Let There Be Rock," and in between they played
Uncle Frank
John Henry
Feb. 14
Never Gonna Change
Marry Me
Aftermath and
Lookout Mountain
It was an awesome set and a nice mix from various albums, although we'd expected primarily new stuff since they have a new album. It was particularly nice to hear "Let There Be Rock," which I have a new affection for. mmm.
Here are the lyrics; maybe you have to be either a hillbilly or my age (or both) to really love this, but stick in the names of whatever bands really turn
you
on. Patterson Hood said something like "This is a song about how rock and roll saved my life in 1977 and every word of it is true."

"Let There Be Rock."
Dropped acid at a Blue Oyster Cult concert, fourteen years old,
And I thought them lasers were a spider chasing me.
On my way home, got pulled over in Rogersville, Alabama,
with a half-ounce of weed and a case of Sterling Big Mouth.
My buddy Gene was driving, he'd just barely turned sixteen.
And I'd like to say, I'm sorry, but we lived to tell about it
And we lived to do a whole lot more crazy, stupid shit.
And I never saw Lynyrd Skynyrd but I sure saw Molly Hatchet
With 38 Special and the Johnny Van Zant Band.

One night when I was seventeen, I drank a fifth of vodka on an empty stomach,
then drove over to a friend's house.
And I backed my car between his parents' Cadillacs without a scratch.
Then crawled to the back door and slithered through the keyhole
and sneaked up the stairs and puked in the toilet.
I passed out and nearly drowned but his sister, Dee Dee, pulled me out.
And I never saw Lynyrd Skynyrd but I sure saw Molly Hatchet
And the band that I was in played The Boys are Back in Town.

Skynyrd was set to play Huntsville, Alabama, in the spring of 77
I had a ticket but it got cancelled.
So the show, it was rescheduled for the Street Survivors Tour.
And the rest, as they say, is history.
So I never saw Lynyrd Skynyrd but I sure saw Ozzy Osbourne
with Randy Rhoads in 82 Right before that plane crash.
And I never saw Lynyrd Skynyrd but I sure saw AC/DC
With Bon Scott singing, Let There Be Rock Tour.
With Bon Scott singing, let there be rock!
And considering the crowd was rather thin, they got a great reception, with lots of cheering, so we were glad of that. I can't wait to see them headline. We skipped them at Mississippi Nights a couple of years ago, but I'm just hoping they come to the Pageant soon. We'll get down there on the floor and sweat our heads off. heh.
After that we were kind of afraid to leave and go to the bathroom, because we didn't want to not be allowed back into the section, but what we did was walk out very past the bouncer and make sure she saw us, and then when we came back I made sure I had my ticket showing in my hand but didn't offer it and we just walked past her and right back to our spots. And later there was a ton of coming and going and nobody sitting anywhere near us was in the right seats, so that was all right and we relaxed about it.
Robert Randolph and the Family Band are good. They're like ... Steely Dan with Ben Harper sitting in, and Robert looks like LL Cool J's snuggly bear brother. Mmmm. However, while I respect what they do, it's not really our thing. In fact, when I see a jam band, it really kind of reinforces that the only jam band I really love is the Allman Bros. Band.
Robert Randolph: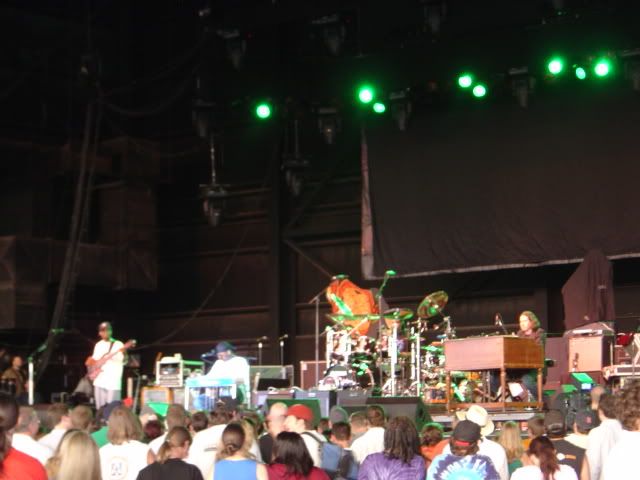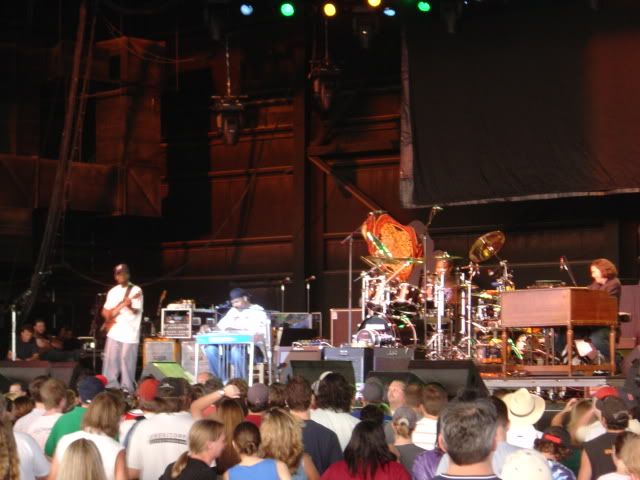 Then the Crowes came on, finally. Their stage was a little different from when we saw them last year; instead of draperies in the back and a gazillion electric candles in the front, they went more psychadelic, with blacklights and a big backdrop. They still had a guy come out with dozens of incense sticks before they started, though. I wasn't keeping a setlist, but, like last year, they didn't play their couple of biggest hits, although they did plenty of good stuff and it was a hippie peace and love jam fest. I'm really loving how Chris Robinson is so into it. He's like walking meditation except he's doing dancing hippie meditation.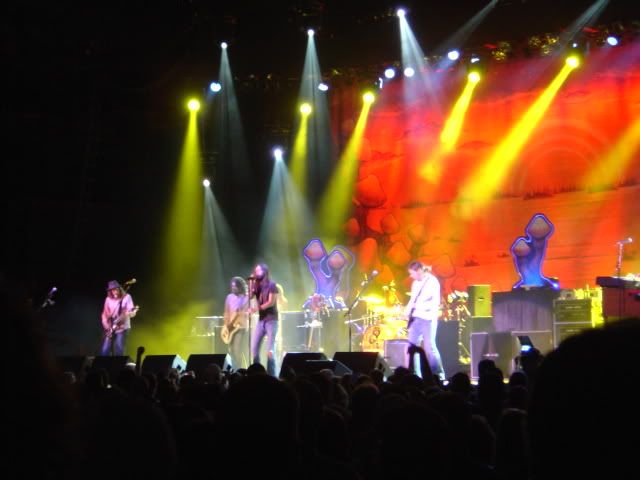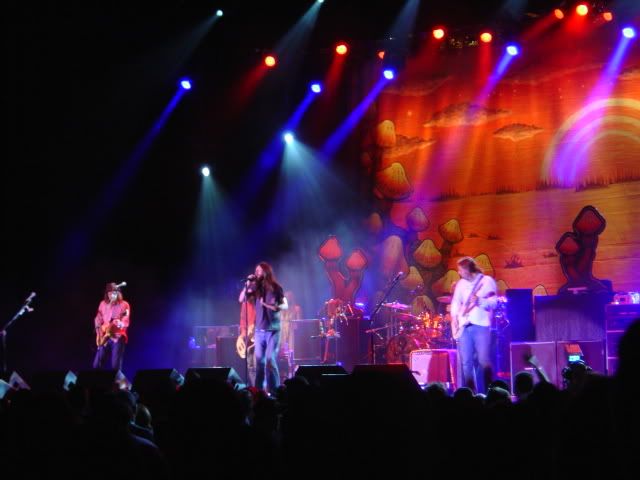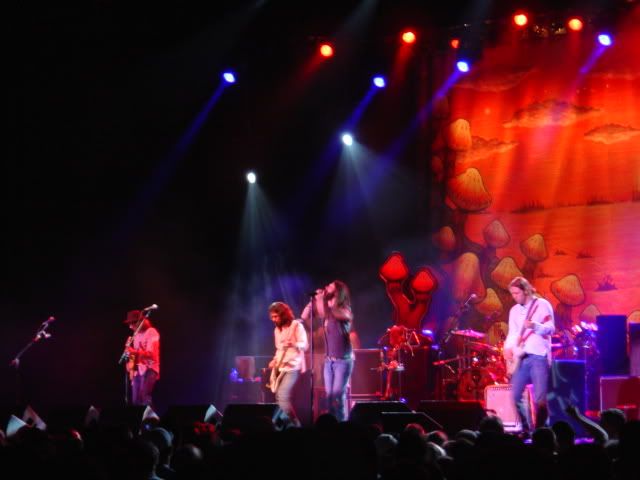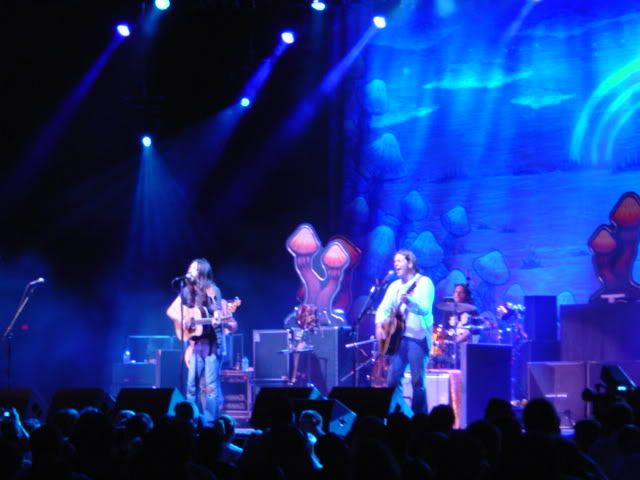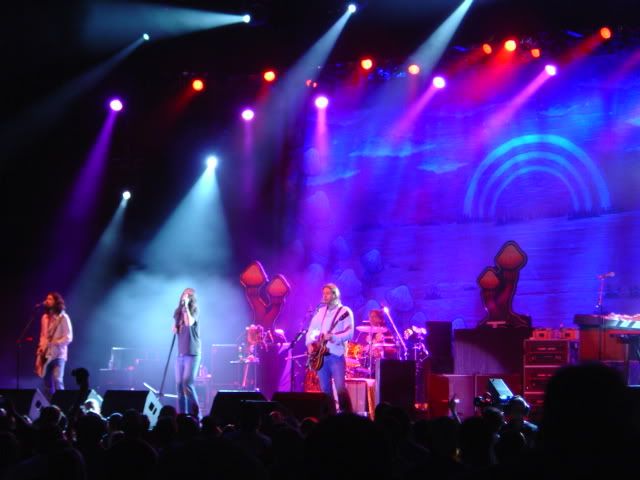 And a picture I took of the video screen near us, for good measure.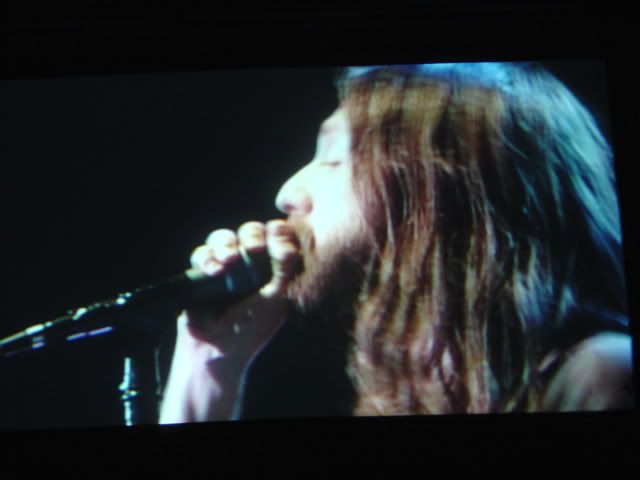 Here's about 42 seconds
of video during "Thorn in my Pride."