State Fair checklist:
-Walk around, get irritated at people
-Eat fried food
-Drink some beers, listen to some music
-Get rained on.
Check-check-check-aaaand-check!
The good thing about Joe Walsh, besides that he's written some awesome riffs, is that he has both the kind of guitar chops and the kind of voice that you really don't lose. He's not a youngster, he's more like Randy Quaid meets Wavy Gravy, but it's all good.
Oddly, he didn't have a spotlight on him at all - although there were spotlights and they did work, as on the forgettable opening band. Dude, maybe you could just try sunglasses. Made it hard to get a decent photo.
We knew about half his list, I'd say (which is a pretty shameful ratio, I know):
1. (don't know)
2. Ordinary Average Guy
3. In the City
4. (don't know - a slower song he played keyboard on)
5. (don't know)
6. (don't know - he said it was James Gang, and played a section from 'Bolero' in the middle)
7. Walk Away
8. (don't know)
9. Funk #49
10. Life's Been Good
(encore)
11. Rocky Mountain Way
12. Life in the Fast Lane (which one of the backup singers sang)
It looks like a short list, but a number of the songs were pretty darned long.
It really picked up for me around 'Walk Away' - because it got more uptempo and because I recognized most of the stuff from then on, of course. Funk #49 was cool, but Life's Been Good and Rocky Mountain Way were especially satisfying to me. Rocky Mt Way rules, yo. How long's it been since I witnessed a good talk box session? Too long. Life in the Fast Lane was good too.
Really couldn't get good pix.
video screen: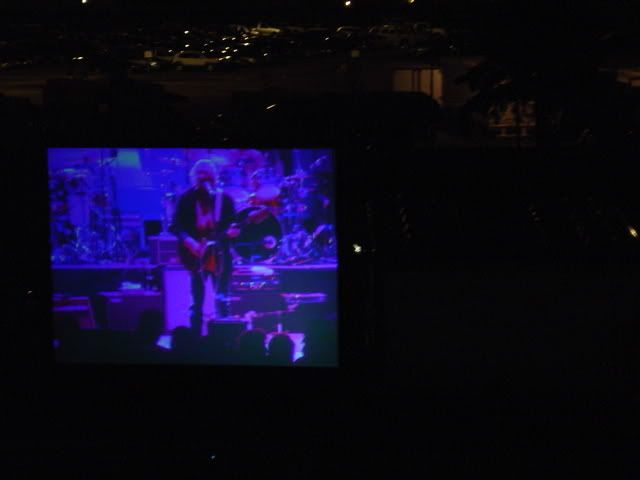 dark stage
bit closer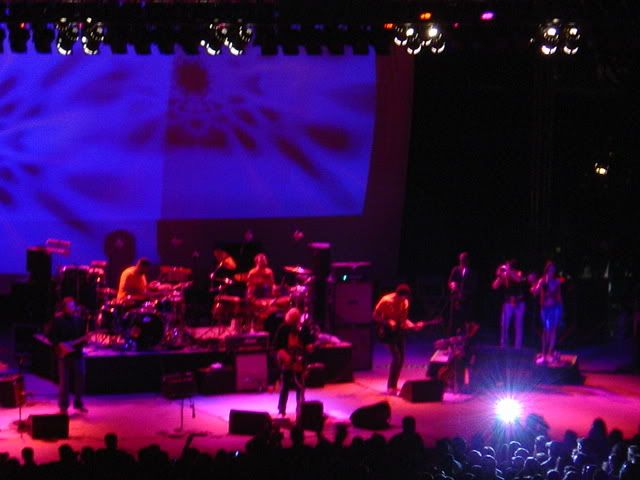 Oh, yeah, and then we got rained on walking back to the car. It wasn't so bad, though, we'd only parked across at the APL, and it wasn't raining that hard.
The only real bummer was that - at the fair, the vendors grab the same spots year after year. So there's this place that has fried mozzarella that's just beyond fantastic. It's still there. but next to it used to be The Best Ice Cream in the World, and this year? The Best Ice Cream In The World was GONE. WOES.