Had a great time at the Dylan-Mellancamp-Nelson show last week.
My directions said the exit would be closed at 4:00 but well before that I was forced to drive past it to the detour, going right past the venue and seeing a dismayingly large number of cars there already (dammit!). the detour wound through a small town via large 'CONCERT TRAFFIC' signs that I hoped to heavens would be there on the way out - it was very confusing. anyway, finally got there around 3:30. I was surprised to see that a lot of people seemed to be tailgating or something - at an all GA show that you care enough about to get there early, why hang around in the parking lot? GET IN LINE IDIOTS. the line was disconcertingly long but I went 'hmmm' and asked a security guy whether there was a different line for 'early entry' internet presale holders, and YES, it is around the building, where the line is much much shorter and we even have our own portajohn so yay! during all this, could plainly hear Mellancamp soundchecking Pink Houses and Rain on the Scarecrow.
anyhoo, I do okay in line with hidden water bottle and sun hat and all, and I get second-back at the rail at what I hope is still Bob's side eventually. However, it's only like 4:45 p.m. at this point! long night ensues. I asked the guy next to me to watch my spot - this early, people have blankets spread out and stuff, so it's not like pushing and shoving anyway - and he asks me to get him a bottle of water, which No Prob. so I have the chance to hit the real bathrooms, refill my bottle at a fountain, buy his water, buy me a pepsi, get a handful of ice out of the cooler, yay. lots of time to sit around, and the crowd seems way less annoying than last time, fewer already-drunk guys, although this one guy takes his shirt off and lies on a blanket and he's like a walrus out there. dude. your boobs. cover them.
finally finally after the chick right in front of me and the guy says she got there at 5 a.m. about a hundred times (and for what? she's right in front of us) the opener opened, and I can't remember their name at all, but they were like a more gimmicky Old Crow Medicine Show, the guy had a washboard with like little cymbals and horns and aooogahs and megaphones and stuff hanging off him, he was a little much, but it was neat. it was like string band plus pedal steel kind of combo. I always like a mando-banjo.
then a quick break and Willie Nelson and his Elderly Band. I've seen Willie FOUR times now, three times opening for Dylan and once at Crossroads. SIGH. I mean, fine, he's a legend, he wrote great songs, but enough. so anyway, I decided to just jot down what I knew, which was:
whisky river
beer/horses
mama, don't let your
funny how time slips/crazy
money honey/time
blue eyes cryin'
georgia
take all of me
on road again
always on my mind
circle be unbroken/I'll fly away
I ain't superman
I saw the light
and here's the real list from the STL paper:
1. Whiskey River
2. Still Is Still Movin' to Me
3. Beer for My Horses
4. Mamas Don't Let Your Babies Grow Up to Be Cowboys
5. Funny How Time Slips Away/Crazy/Night Life
6. Down Yonder
7. Me and Paul
8. If You've Got the Money I've Got the Time
9. Blue Eyes Crying in the Rain
10. I Been to Georgia on a Fast Train
11. Georgia
12. All of Me
13. On the Road Again
14. Always on My Mind
15. Will the Circle Be Unbroken/I'll Fly Away
16. I Ain't Superman
17. You Asked Me To
18. Nowhere Road
19. I Saw the Light
He was fine, he made a big deal out of waving to a little girl and making sure she got his bandanna, and he's just a fun guy, basically. really really old. but fun. his sister still plays a pretty mean pianny and his harmonica player still looks like Mandy Patinkin.
after that there seemed like a kind of long break before Mellancamp. I have to admit that Mellancamp is one of those guys like Melissa Etheridge, I like their hits, I recognize their import, and still I just never really got into them and bought the albums and stuff. I don't really know why; it just happens that way with some people. anyway he brought a really fun show, high energy but not annoyingly so, venue-appropriate, he had a 7-piece with a violist and accordian/KB, and his guitar player who looked like a young Jeff Beck was really good. Of course I was in front of the rhythm guy, I'm never in front of the lead guy if I'd like to watch him, but still, good stuff indeed.
Here's a phone picture of him over in our area:
Here's what I wrote down for his list
pink houses
paper & fire
check it out
small town (acoustic)
rain scarecrow
what if I came knockin'
walls tumblin' down
authority
there were kind of a lot of songs I didn't know, so I guessed they might be newer, but the ones I didn't recognize, I thought were really good. and I really like 'rain on the scarecrow' and the whole neil young farm aid alt country thing. as J said, it's funny how we never really got into him but he sounds just like everything we listen to now. here's his 'official' set from the STL paper again:
1. Pink Houses
2. Paper in Fire
3. Deep Blue Heart
4. Check It Out
5. Don't Need This Body
6. Small Town
7. Old Rugged Cross
8. Rain on the Scarecrow
9. The Real Life
10. If I Die Sudden
11. What If I Came Knocking
12. Crumblin' Down
13. Authority Song
Small Town was really good, although I share the experience without the sentiment of the song. also there was a cameraman and also a still photographer, and the photographer was a hot blond chick, and she also handed him water sometimes when he ran over to the side, and during Small Town he sang 'my wife was 13 years old when I wrote this song,' and she cracked up and he cracked up and it was evident that's who hot babe was. anyway, he was personable and stuff too. would see again for cheap.
at that point I was feeling pretty tired and also anticipatory, because I am (as you might know) a big and long-time Dylan fan and this was maybe my eighth or ninth time seeing him over the years and I always always always really really look forward to it. Bob is ... I mean, he's my hero, man. DUDE. He's Bob Freaking Dylan. also it was time for a bit of a crowd press forward and this really tiny wee chick hurtled herself forward and tried to claim the rail between the three teenage boys in front of me. she was totally wasted but she wasn't like 'is there room for me to squeeze in here, I'm so short' she was more like 'let me in front of you, asshole, you're a foot taller than me! fuck you.' so she backed away and cursed and bothered everyone, and the kids called security over, and they left and she cursed and bothered everyone, and rinse and repeat a few times and security was really great about it and told her she simply had to move away either far to the right or far to the left because of all the complaints, or else leave. and there she went, away, and there was much rejoicing, because I do so hate having to deal with that crap for a whole show. I hate assholes - regardless of height - who feel entitled to push and shove to the front. if you want it so badly, get there earlier, for the love of god. It's not that hard for most shows.
anyway, finally, there was time to observe that Bob's had really a lot of the same roadies for 15 or 20 years now, I especially always recognize this one guy with a pronounced limp, even though he's had so many different bands, shoot, I've seen him with Charlie Sexton and G.E. Smith and so on and on. but this band he's had for the last few years is really hot and happening. Bob, now, he's, well, yes, his voice, obviously, that's been problematic for some years, has it not? yes. but I am happy to say that Bob was in relatively strong voice. coming off a month off with only one show the night before, so a little rested after Europe, and honestly his voice has gotten stronger over the last few years, he has strength to play harmonica more and more, so that's good too. so here's the list from bobdylan.com:
1. Watching the River Flow
2. Don't Think Twice, It's All Right
3. The Levee's Gonna Break
4. Spirit on the Water
5. Things Have Changed
6. Just Like a Woman
7. Honest With Me
8. Forgetful Heart (apparently first live performance of)
9. Highway 61 Revisited
10. This Dream of You
11. Thunder on the Mountain
12. Like a Rolling Stone
(encore)
13. Jolene
14. All Along the Watchtower
In fact, speaking of good voice, this is a rarity, but I was surprised, and pleased to realize that I was able to recognize nearly all the songs immediately. I must've been standing in a sweet spot; I could understand most of the words, even. the songs I didn't really recognize immediately were the new ones, too. context: bob is legendary for rearrangements, wandering off melody, etc. in addition to the voice and vocal mannerisms. but this time, woah. the first two are great classics, but Just Like A Woman was a real high point for me, and Highway 61 was righteous, and Rolling Stone and Watchtower were smokin' too. and I noted this last time, but last time I was busy with heatstroke and so couldn't fully appreciate it, but when you're really close you can see that Bob is interacting with the audience in an extremely small and eccentric way, and you can see him signal the band and even SMILE yes he was smiling OFTEN. SHOCKING. He also said "Thank you! Right now I'd like to introduce the band," before he did so. (Bob is also known for not speaking to the audience AT ALL when not in the mood, so "thank you" is awesome!)
I know, I'm making him sound like an asshole, but no, he's just bob dylan, and in my book he's totally entitled. when you've shaped modern culture then you can bitch.
so there you go, a happy happy time for me, good show, and bless his elderly heart, bob just keeps doing it. so yeah. I grinned a lot. the end.
Here Bob is in the middle of the stage; I think he must've been doing 'Forgetful Heart' here: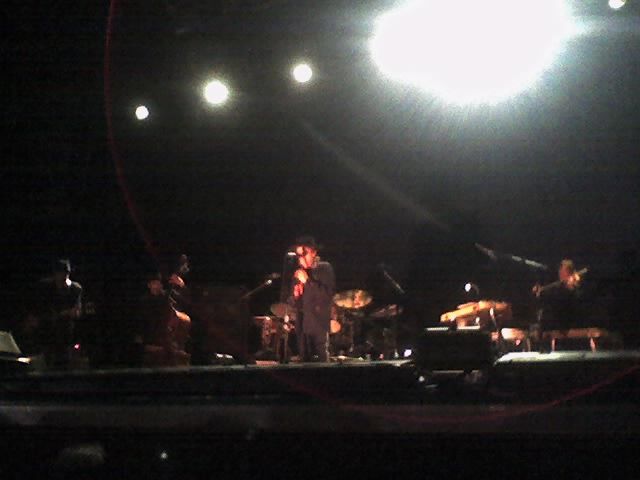 and here he is over at the keyboard; you can see his oscar on the amp at right (blurry glow):