I put this off for a long time, at first because I didn't want it to be over, and then because, you know, where the hell do you start?
However, we've got a few more concerts on the horizon now, so I'd better get this out of the way! Sorry this is so lengthy; I don't know how to hide posts behind a cut like you can on livejournal.
Husband J and I went to Eric Clapton's Crossroads Guitar Festival in Chicago on July 28 with our friends D and Other J. It's a fundraiser for Clapton's xroads rehab center; there was a previous concert in texas a few years ago, but it's not like a tour or even a show a year; there have only been the two.
(
official xroads site
xroads at wikipedia
)
Here's me and J at crossroads. Note the guy over my shoulder? A Harley guy in the complete getup (sans coat!), spent half the day reading a thick novel. Love it.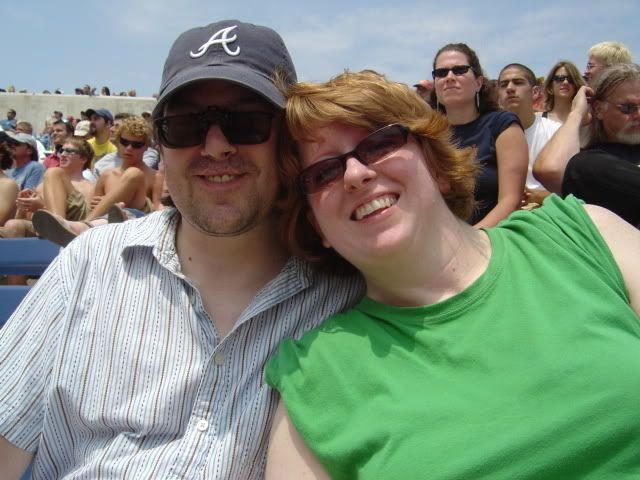 J and I had bought tickets, but our friends hadn't. Really, we barely had both feet on the ground of the parking lot before we were approached by two or three sellers, and our friends got a fairly good deal. When we got in, we saw that the seats J and I bought were far better than I had imagined (although they were at the far end of the stadium from the stage, they were fairly low toward the field (it's a soccer stadium)), not nosebleeds. Also, the seats were bleachers without arm-divisions, and our friends (and another couple who joined us later) were able to stay with us the whole time. The crowd came and went, and it being all-day, people were always going to get something to eat or drink, or see some of the exhibits, so there was usually quite a bit of room. Later in the night some people had left and people from the field came back to sit in our level - they were cool, too; we had a good time out there. We were far enough away that photos won't show the stage very well; I'll post mostly pictures of the video screens. Or more often I tried to get both, the screen so you can see what you're seeing, and the stage so you can see where they were and stuff. Not to mention how my camera is great during daylight but sucks for concerts/dim lighting. ah well.
It was HOT when we first got there. Baking. Everyone fried but me (yay sunscreen) and I fried in the part in my hair (dammit!). We were always getting water or something, but if I have one complaint about the day, it's that the venue just didn't seem ready for an all-day, big crowd. No matter which vendor you hit, they were just running out of something - no bottled water at this one, no small beer cups at that one, no beer of a particular brand at another one, different every time as they tried to restock, but it was a huge pain in the ass, and everyone was so hot and miserable and thirsty until later in the afternoon, and it was really crowded in the concourse and the lines were SO LONG, there was a LOT of complaining.
On the plus side, firstly, because they couldn't keep bottled water stocked quickly enough for it to get cold in the coolers, they started giving out a cup of ice when you bought a bottle of water. I swear, one of those cups of ice might very well have proved the difference between life and death. Also, I've never been to a festival where the place stayed so clean. The bathrooms were clean all day, always stocked, and people were taking out the trash constantly.
We were just a smidge late, so we missed some of Sonny Landreth, who was the first act. (Look, I don't think I have the gumption to look up the home page for everyone here, so just google an artist yourself if you're interested, okay? At the end of the post will be a few links, too.) We knew Bill Murray was the host/emcee, and honestly there was nothing but love for Bill Murray all day. Every artist was his very favorite. Hilariously, for many of the acts he dressed as a guitarist from the era or genre they represented, so he was at various times an acid stoner, a brit rocker, a cowboy, etc, complete with bad accents. Hysterical. When he introduced the second act, John McLaughlin, he referenced his participation in "the Mahi Mahi orchestra" (McLaughlin was in the Mahavishnu orchestra). bwah hah hah. that sort of thing.
After John McLaughlin was Alison Krauss, obviously to showcase her guitarist Jerry Douglas. (Edit:
Dave's
Dad quite rightly points out that Jerry Douglas should be more properly referred to as a dobro player, if not
the
dobro player.) J and I had seen her before, so we hung out for part of it and then went out and walkabout to look around at some of the exhibits and stuff. The lines were really long to look at the
famous
axes, but J played a guitar or two at some of the displays, and we went into the Digitech truck (air conditioned!!) for a while, etc.
when we came back (so hot! so thirsty! kind of sick!) we were heading to get in line for water, but then we could hear that Doyle Bramhall II was performing, and we never get to see him solo (though he's been with Roger Waters and then Eric Clapton for some years), so I shooed J away and stood in line by myself. Which wouldn't have been a big mistake if it wasn't the Slowest Line Ever. While I was waiting Doyle's set ended and I heard them introduce the Derek Trucks Band. I was in agony. I worship Derek Trucks. Finally I made it back to our seats with the agua. That's when our other friends, the third couple, had made it, so we were a little squeezed for a while. It was much later in the day that the crowds thinned out a lot. In the concession area in particular, it was like being in a GA section, trying to get to the bathrooms and stuff, constant physical contact, slowness, etc., but later you could actually stride, which was a relief. I hate thick crowds like that.
Anyway, Derek Trucks: regular readers know of my adoration for him, and today was no different. Susan Tedeschi, who's his wife as well as killer blues guitarist in her own right, came out for a couple of songs, and then they introduced Johnnny Winter and the crowd went nuts. Dear frail freakish old white Johnny Winter, huddled under a big hat, sitting down to play a smokin' version of Dylan's Highway 61. Oh, yesss. I mean, it was only like 3:00 at this point and the day had already given us complete and total satisfaction. Any day that has Derek Trucks in it is a good day anyway.
derek trucks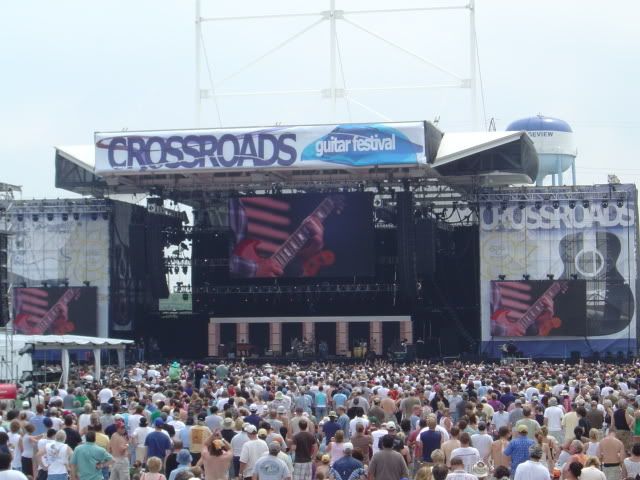 johnnny winter's hand
This set also set a pattern of having a whole band play their own set plus stay onstage for a while as the house band for several other artists. Like Sheryl Crow, B.B. King, Willie Nelson, they didn't bring their bands. Other groups like Jeff Beck came out with just their band and did their thing and were gone instead of hanging around. Depends on the band. The stage was two-sided revolving, so they could do a pretty fast changeover. Nearly too fast! They needed like a half hour intermission once during the day. There wasn't a schedule and you hated to go look at the exhibits or wander around because you didn't know what you'd miss.
But anyway, then what? Robert Randolph and his band. We keep bumping into him! He's like our Kings of Leon, only good. His band did a as-smokin'-as-ever set, and then it was Robert Cray. You gotta love Robert Cray, and his "20" is one of my favorite of the current generation of antiwar songs (although Jason Isbell's "Dress Blues" is my current fave). Cray's band did Poor Johnny, Walkin', and 20 for sure, and Jimmie Vaughan – obviously, Stevie Ray Vaughan's brother, who used to be a Fabulous Thunderbird – joined them, and then, he was on the bill so it wasn't a big surprise, but it was like everyone on the stage was a big surprise because everyone was such a treat, and Hubert Sumlin was no exception.
That's the beauty of the crossroads show, I thought: I know it sounds hokey, but the real feeling of living history and how music was in the active process of crossing the generations … it was haunting. So revered old Hubert Sumlin – who played guitar with Howlin' Wolf – sat and did "Killin' Floor" – which was the dizzying historical moment of the day, for me, to be in Chicago listening to Hubert Sumlin do Killin' Floor in the year 2007, my god – and also "Sittin' on Top of the World," which was lovely too.
hubert
And
then
B.B. King came out too, and that was Just Too Much. So they
all
did "Rock Me, Baby" and "The Thrill Is Gone." It was strange to see him without the band; J and I had seen him a couple of times before. But this was so much more real. B.B. King's band, they're awesome, of course. But they're also very much A Show, as well as being orchestrated to be easy on B.B. because he's old. So to see him in daylight, without them, nakeder somehow, that was good. That was
real
good. Then, as for most of the day, you could see Eric Clapton hanging around on the side of the stage just watching and enjoying and taking pictures – wouldn't I like to see
those
pictures! That's when B.B. made a very moving speech about how he hoped the last sound he heard was an audience and about how great Clapton is and what a great person he is. "I've traveled all over the world, played in 90 countries. I've met queens and kings ... but I've never met a better man, a more generous man, than Eric Clapton." It looked like Eric was wiping his eyes a little at that point. I know I was.
BB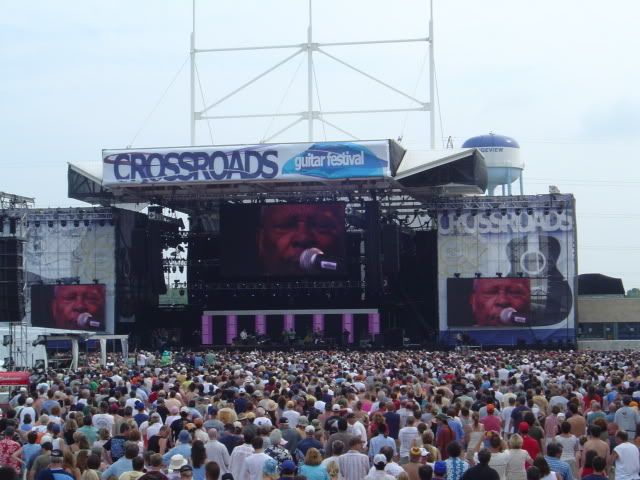 Jimmie, Hubert, Robert, and BB on stage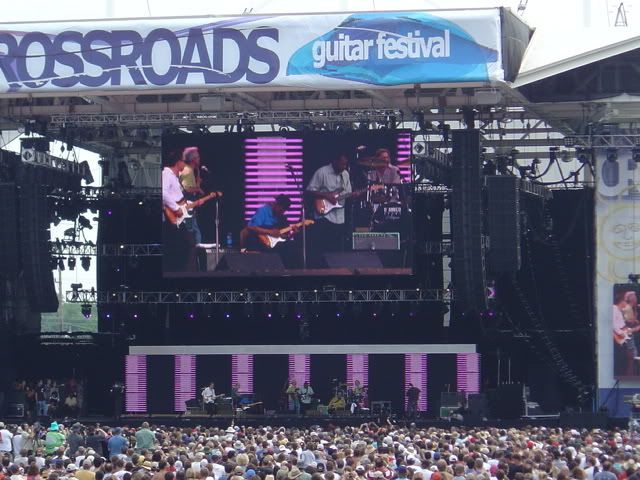 BB, w/ec with hat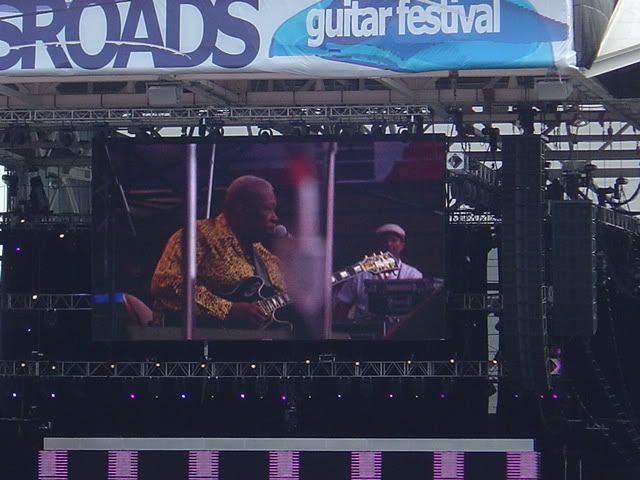 BB, w/ec smiling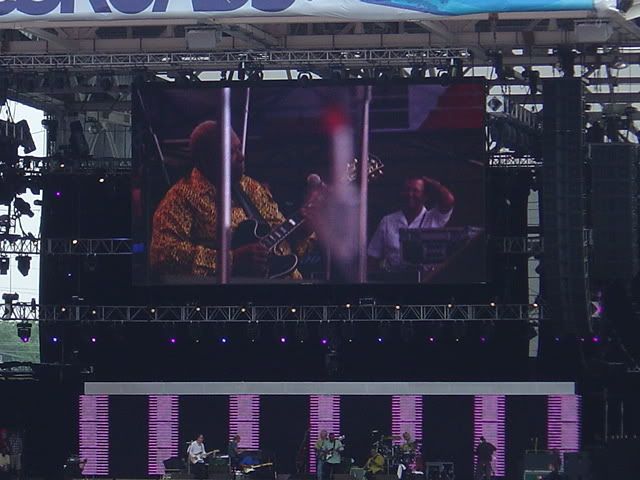 jimmie, hubert, bb, w/ec taking picture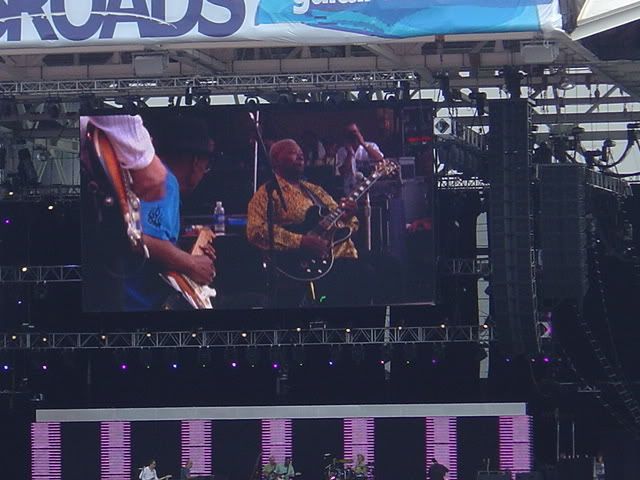 Anyway, that was awesome. After that I think I ran to get us more water, and while I was in line the act was apparently some kind of contest winner. I don't know what that was about really. Then John Mayer was the unlucky stiff who had to follow the real blues extravaganza. J and I hadn't heard Mayer's blues stuff, because frankly he's John Mayer – we couldn't bring ourselves to give it a chance. But he was really quite fine onstage. Kid gots some blues chops, so I'll give him his due props, although I still don't want to have to watch him make his faces while he plays. Ugh. Anyhoo, he did his big 'Waiting on the World to Change' as well as Ray Charles' "I Don't Need no Doctor." It wasn't that bad, although of course we were pretty much in the mood to love everything. It was a totally positive day all the way around.
So after
that
was Vince Gill and his band. Vince Gill has guitar skills, sure. But he's just too country for me; I can't get around it. Luckily he wasn't out there by himself very long; like with Robert Cray, it got pretty crowded after awhile. First Albert Lee – I didn't really know this, but J says he's British and is the guy who pretty much pioneered the chicken-pickin' style. Which seemed true as we watched! Then Sheryl Crow – it seemed strange that we apparently hadn't seen her live before; I had to double-check with J. Of course, she's not known for her guitar prowess, but she is known for having dated Clapton for awhile.
bill murray (sunglasses & vest) watching albert lee & sheryl crow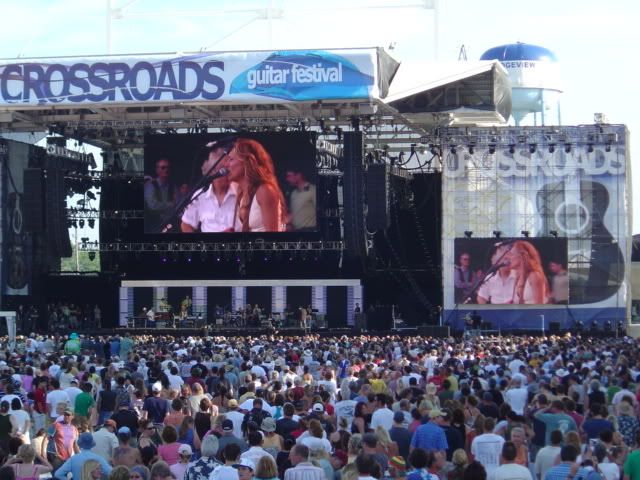 sheryl crow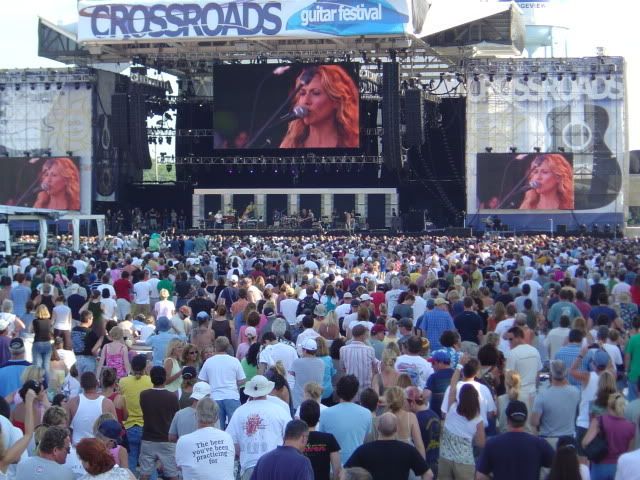 Alison Krauss came out and sang "Are You Strong Enough to be My Man" with Cheryl, and then Eric came out and did "Tulsa Time" with her. And
then
Willie Nelson came out – again, it was strange to see him without his Very Elderly Band, because I'd sort of inadvertently seen him a couple of years in a row opening for Dylan. He did "Time Slips Away," "Crazy," and "Blue Eyes Cryin' in the Rain," starting out a little rough with kind of talky-singing and medley stuff, but then hit his stride and won the day. Good ol' Willie.
trigger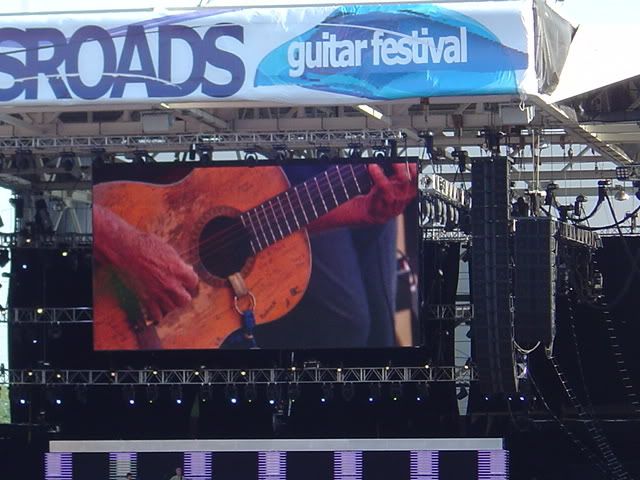 Then that whole thing cleared off and the next thing was Los Lobos. We were looking forward to them, although we knew only a few hits of theirs, and we weren't disappointed – good stuff!
cesar rojas of los lobos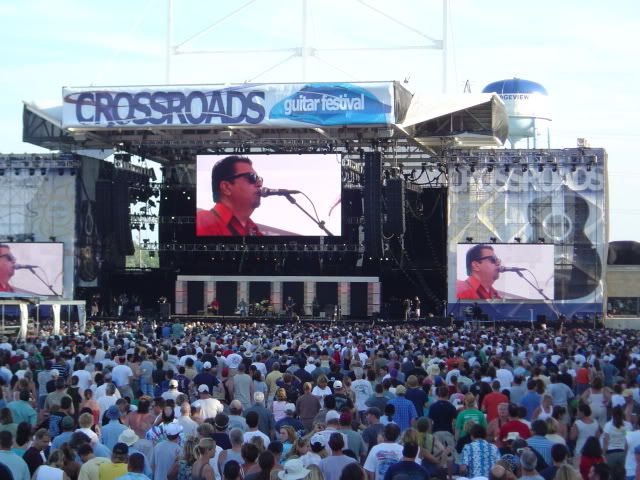 After that was Jeff Beck, who, like Los Lobos, was one of the acts that played himself with his own band and didn't join in the collaborative stuff. At first all the buzz was about his bassist! I said to J, "Jeff Beck's bassist is a 12-year-old girl??" He was playing in a 3-piece and his bassist was this neat little thing: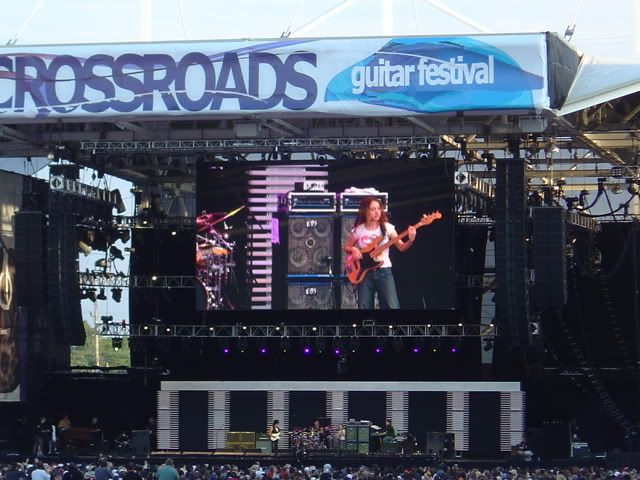 So then a rumor kind of went through the crowd that she
was
a 12- or 14-year-old girl. We looked her up later and it turns out she's like a bass prodigy from Australia named

Tal Wilkenfeld
and she's actually something like 21 years old, but still. Chick was really holding her own, and the crowd LOVED her. Jeff Beck was awesome too. When J and I saw him with Santana like ten or fourteen years ago, I couldn't really get into him, but I'm older now, and he was much more interesting.
Jeff Beck's talcumed hands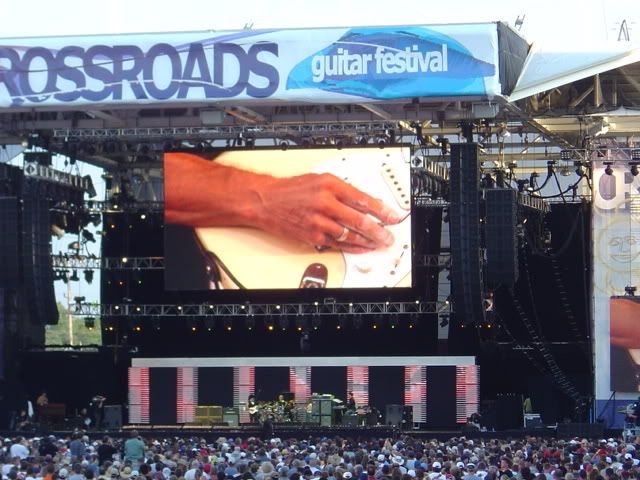 Beck ended his set with a blistering, perfect instrumental of the Beatles' "A Day in the Life," complete with the big huge noise note at the end. We were just hooting in ecstasy at that point.
After Jeff Beck – and it was the kind of day it was that I'm still thinking I'm forgetting some very important people – Bill Murray (who'd been introducing everyone all day in costume, as I said) came out as Cream-Era Clapton to introduce Clapton.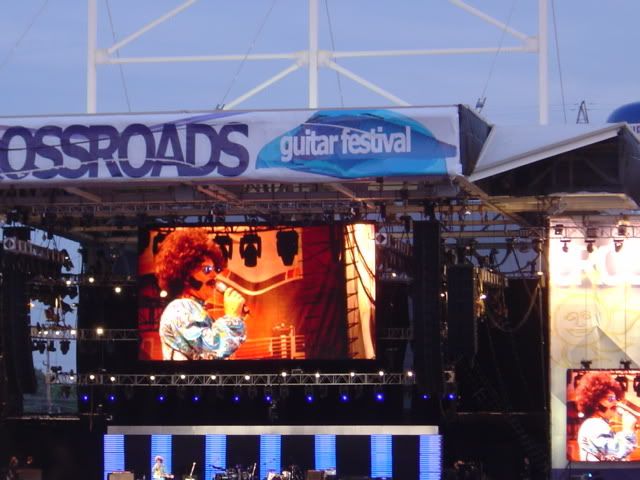 We were all saying throughout the day, because everyone was so great, "Clapton better have brought his game today!!" Well, he did. He was awesome, and of course, his band was out with him again, so more Bramhall and Trucks, yay!
As I said, my camera is great for everything except normal concert lighting conditions. Sigh.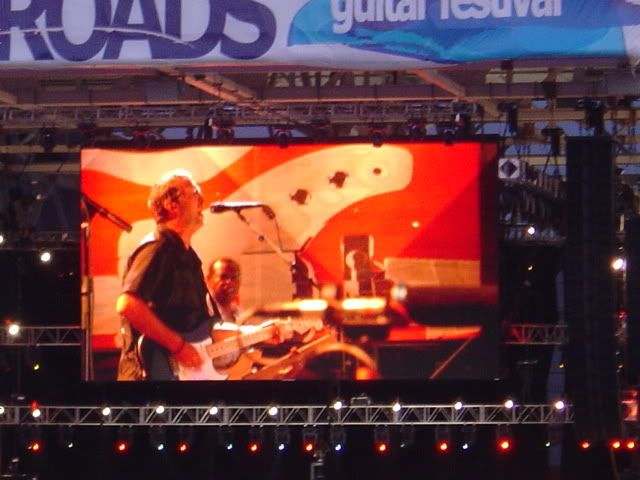 By that time various families and groups around us and come and gone, and people who'd been down on the field all day had come to sit by us, and we ended up with a very cool little group, including people who didn't look like they were into the blues, and I usually don't like to interact with strangers at concerts, but this turned out very cool.
So eric did "Tell the Truth" and Harrison's "Isn't It A Pity," and "Why Does Love Got To Be So Sad" and "Queen of Spades," and then Robbie Robertson (of whom I've never been a big fan, but it was fine) came out and they did "Who Do You Love" and "Further On Up The Road." Then Steve Winwood came out and (on piano) did "In The Presence of the Lord" (we had totally found new levels of bliss by then) and "Can't Find My Way Home," but then he played guitar on "Dear Mr. Fantasy," and I swear,
that
was the best solo of the day. Who would have known!! It sounds totally nuts. Then Clapton finished up with "Cocaine" – I can't get enough of that song, never could, never will (hah, it's as addictive as its namesake, I suppose) – and "Crossroads," which was just the topper of the topper of the topper of the night.
THEN – and honestly, I thought this was too bad, because it felt like an anticlimax after the big Clapton thing, but I totally see why Eric would have wanted it that way – Buddy Guy did a set, which included "Mary had a Little Lamb," "Damn Right I Got The Blues," and, with Clapton, "Hoochie Coochie Man" and "Sweet Home, Chicago." Which was totally the right thing.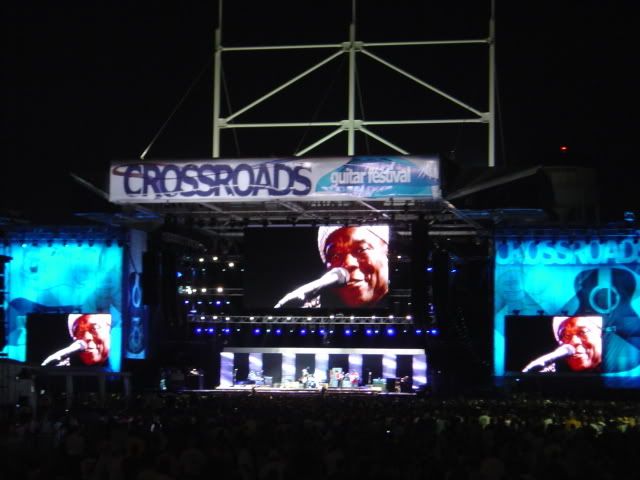 Here's a recap from Rolling Stone.
Photo Gallery from Rolling Stone.
Story from billboard dot com.
and review from Chicago Tribune blogger Eric Kot.