I got out of town just a bit later than I wanted Saturday evening, but I made very good time to Bloomington. I pulled into a parking garage when I knew I was near, but there weren't a lot of people about, and I'd checked a map I printed out of downtown Bloomington and figured out that this garage was really a few blocks further than I wanted to have to walk afterwards. So I pulled back out and drove a few more blocks and around the corner and into a busier, better, better lit and closer garage. It wasn't too hard to find the venue and I took care to remember the name of the street the parking garage was on.
The opener Amos Lee wasn't too bad. He had a full band and was more rootsy than bluesy; I liked his set, but it didn't really spark me to go buy the cd or anything.
Since I had a single ticket I ended up sitting next to another single guy who was recording. I often seem to end up next to the guy who's recording Dylan. So that meant I hooted and yelled less than I would have because I didn't want to screw up the recording - you know how annoying it is when there's a hooter on the bootleg! So I had a bit more subdued of a time than I might otherwise have had.
There were "no pictures" signs about, and although there was no patdown or search whatsoever, not even the pretence of peeking into purses, I did see security halt the picturetaking of a number of people during Elvis Costello. In fact, I called a friend during "Alison," and although it was difficult to hear, I'm pretty sure I got her voice mail, and while I was holding the phone, security came and made me hang up! I've never in my life seen
that
happen before. dude wtf.
Anyway, I don't know a ton about Elvis Costello. I mean, I know who he is and we have a couple of albums, but I'm not exactly a fan, so I didn't know what I was hearing a lot of the time. I jotted down the names of songs I knew or ones that seemed pretty obvious. This list is in order but doesn't indicate blanks where I didn't write down stuff I didn't know.
(The Angels Wanna Wear My) Red Shoes
Watching the Detectives
Wake Me Up
"At Last"
Can You Hear Me
Sugar Cane
Alison
Radio Sweetheart
Not Fade Away
(What's So Funny About) Peace, Love & Understanding
Scarlet Tide
The sound was good and I liked his (solo acoustic) set. He did a bit of talking and said it was his father's 80th birthday, and so he played "At Last," which I recognized but don't know anything about except that it's probably from the 40s. "Scarlet Tide" was awesome too. It was about a war widow. "Admit you lied and bring the boys home." Amen.
Here's one of the few pictures I snuck; hard to get a good one because everyone was sitting and security was roaming.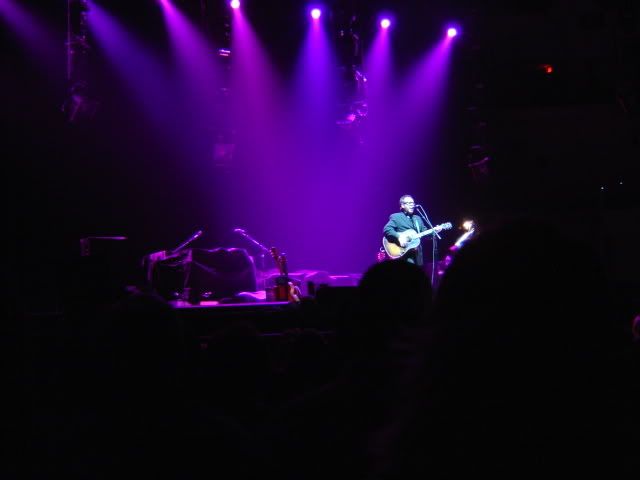 There was a pretty quick changeover to Bob (who's had some of the same roadies for these 15 or 20 years, bless'm).
Here are a couple of reviews.
Bob's set list:
1. Rainy Day Women #12 & 35
2. Don't Think Twice, It's All Right
3. I'll Be Your Baby Tonight (Bob on guitar first three songs)
4. Tangled Up In Blue (awesome version; I was very happy)
5. 'Til I Fell In Love With You
6. When The Deal Goes Down
7. The Levee's Gonna Break
8. Workingman's Blues #2
9. High Water (For Charlie Patton)
10. Spirit On The Water
11. Highway 61 Revisited
12. Ain't Talkin'
13. Summer Days
14. Masters Of War
(encore)
15. Thunder On The Mountain
16. All Along The Watchtower
I guess my only complaints were that I'd have liked a couple more big classics (e.g. Like A Rolling Stone). I was also hoping for Hattie Carroll because I've never heard him do that one and I saw it was in some of the recent set lists. Also I expected Bob to come out and do a song with Elvis or vice versa, as happens on some of the dates this leg, but it didn't happen in Bloomington.
However, the sound was good, the band was smokin' as usual, I love bassist Tony Garnier more every day, and Bob was in very fine voice. Don't get me wrong: while I'm a big huge big Dylan fan, I do have ears, and I do know that his voice is basically a wreck and has been for quite some time. So 'Bob's voice was really good!' is pretty subjective or whatever. But he had quite a bit of strength and used a lot of range, and particularly he was strong in his upper range, which is where his voice breaks less, so I was very, very pleased. He didn't tell any jokes this time, but he did introduce the band, and he pointed at the audience with both hands a few times, and I did see some minimal shimmying over there behind the keyboard. He also glanced at the audience a few times, which is his way of smiling and giving everyone high-fives, so Bob was having a good night.
I'll keep doing it as long as Bob does. I just wish we could have gone also to the St. Louis show, but alas. I never have enough Bob.
Here are a few pictures I sneaked of Bob: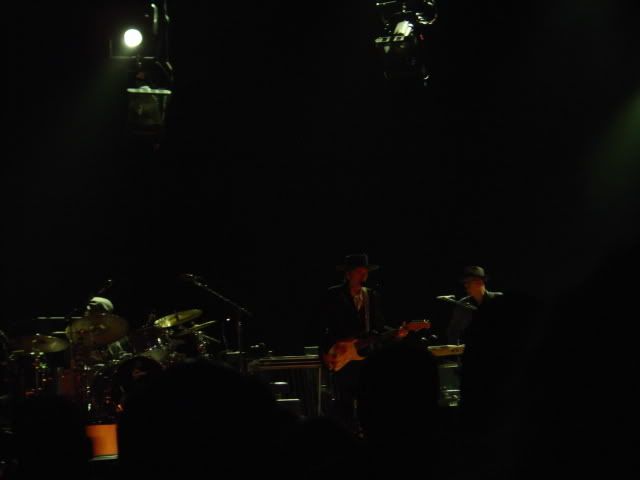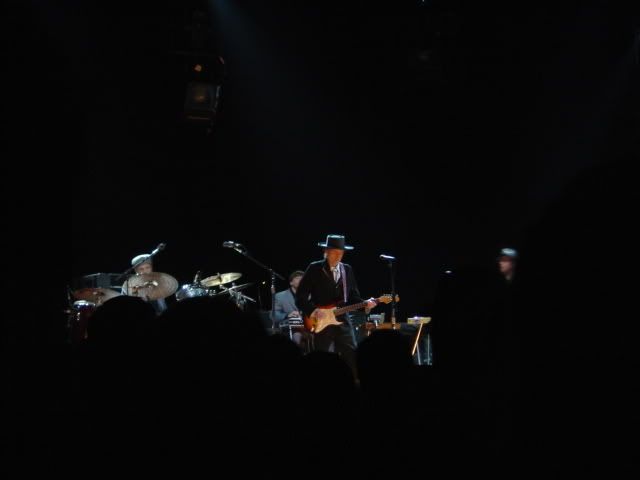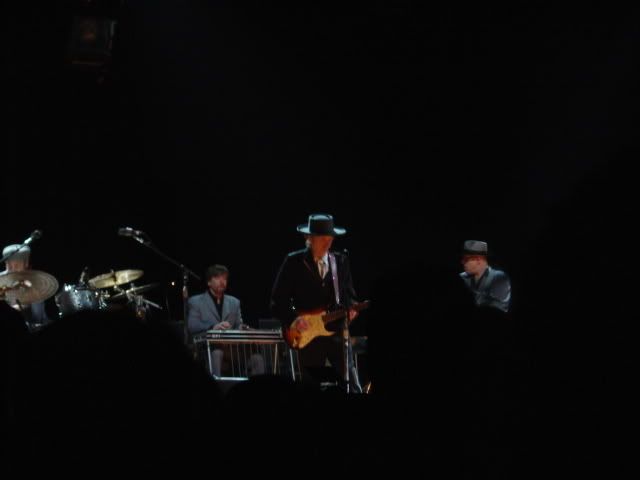 Then I drove to Decatur - after Mapquest made it much more more confusing than it should have been to get out of Bloomington - and hit J's last set and a few beers on an empty stomach. We grabbed a bit of fast food on the way out of town and were probably in bed by 2:30, ready to get up and get ready and hitch our ride to Chicago. More on that bit later.