The first opener was
Ruthie Foster.
Someone had given me a burned copy of one of her cds to prep with, but I didn't really love it. She had a good voice, but it was kind of soul gospel, which doesn't really trip me. (J called this the Keb' Mo' syndrome.) But in person, it was just her and an acoustic guitar. First of all, she could really play; she wasn't just someone who thinks of herself as a singer but has to accompany herself. Secondly, I loved her stage presence; she gave off a great, personable vibe with good, conversational rapport. Thirdly, great voice. And fourthly, her song choices were much more bluesy than I'd anticipated. She had me at Sister Rosetta Tharpe, really, but Brownie McGhee? Get outta town. Very nice. I wish her set had been longer, really.
Second was
Alvin Youngblood Hart.
here's a picture: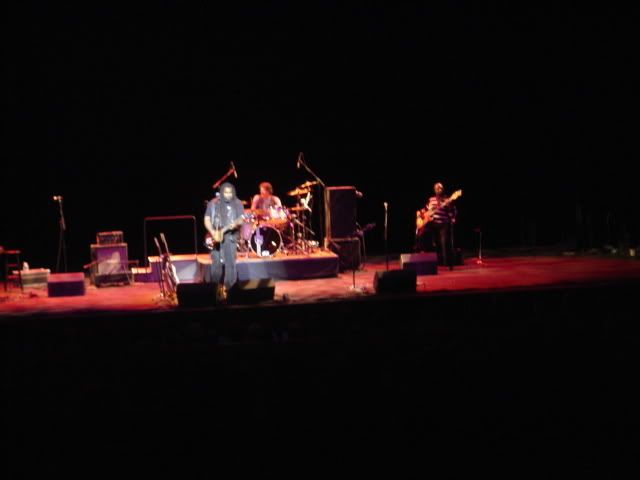 J and I saw him open for B.B. King several years ago, but then he was doing an acoustic thing. This time he was electrified. I don't know whether he played with The Bo Diddley Band or whether his band also backed Bo, but it was the same band (including him). He was, again, really good. J and I both prefer his bluesier stuff to when he goes for a more straightforward rock sound. In particular, he did a mean version of "In My Time of Dying" dedicated to the late Freddy Fender. Good stuff.
After the break, Bo Diddley.
He began inauspiciously with pedal trouble. Strangely, it looked like he didn't have a guitar tech; the guy who came out to help is a local sound guy we know. (The place was crawling with local sound guys, actually.) He was funny, though. "I think it broke," he said, then shook his head. "A hundred and forty dollars."
Anyway, I try to cut an 80-year-old blues legend some slack. And for me the point was really to be in the same room with Bo Diddley while he's alive. The only comparable artists I've seen are B.B. King and Buddy Guy. B.B., I'd say, is physically more comparable to Bo; while obese rather than slim, he likewise sits the whole time, and his band carries a lot of the show. He does play more than Bo did, but his show is a big time kind of vegas production in some ways, very choreographed, including banter. Buddy Guy was physically vigorous and still able to play well, but he was ... instead of playing a bunch of songs, he'd play a song, then do a thing where he played and talked and made a medley and screwed around. Well, bo was like that, only much more so. If I'd really expected a lot of killer guitar playing, I'd have been sorely disappointed. He hardly played at all. He did talk a lot. From a non-legend perspective, it wasn't worth it at all. But I did 'see' Bo Diddley, and, well, I have a greatest hits cd when I need to really hear him. I just felt very sad afterward, and so did J. He seemed so old. I know he is old, but he really seemed like he should be retired. I hate to say that. sigh. stupid blues.
Here's a web site that's on tripod but looks like it wants to be his official site:
click
and
here's
his wikipedia entry.
Here are a coupla pictures of him: