I went on an Ohio road trip last weekend, and on Saturday my friend Shannon, her husband, and I went to
OCMS
and
Wilco
at
festival
last Saturday.
We got there and got a space not five minutes before the band before Wilco started. We were
there
for Wilco, but I rather like OCMS, so it worked well for me.
OCMS setlist (best I could do):
1. Cocaine Habit (aka Woody Guthrie's "Take a Whiff On Me")
2. (Johnny got your gun? unsure)
3. Down Home Girl
4. Big Time in the Jungle
5. Poor Man
6. Union Maid
7. (eastbound train? unsure)
8. God's Got It
9. I Hear Them All
10. Bobcat Tracks
11. Minglewood Blues
12. Wagon Wheel
13. Hard to Tell
14. Tear It Down
15. Band Intros/Tell It To Me
encore
16. (mother earth? unsure)
17. Hard to Love
Here's how far away we were: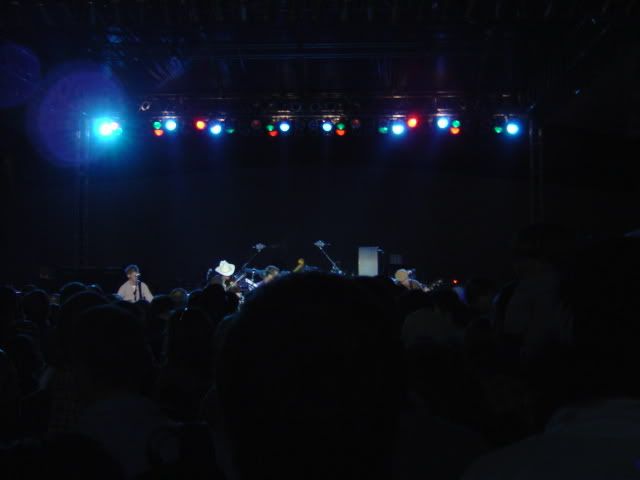 J and I saw OCMS in St. Louis a couple of years ago opening for Gillian Welch and David Rawlings. We had their first - only, at the time - CD, which (like the new one) was produced by David Rawlings, and he sat in with their whole set when we saw them before, which was great. In St. Louis when they did band intros he introduced them by names of well-known St. Louis Cardinals past (baseball team), and I'd forgotten all about that until, in Cincinnati, he introduced them as great 70s Cincinnati Reds players and manager. hah. Anyway, they were as frenetic as ever, but their mellower stuff held up pretty well too. I couldn't listen to them every day, but I find that I'm more tolerant of some kinds of country music as long as it's not mainstream radio country ("hat music"). If it's alt.country or bluegrass or classic old monaural or folk-thrash, I can dig it. I think it's about the authenticity. Popular country music today is the suckiest of the most unauthentic music ever.
For Wilco we squirmed half again as close, I suppose. Visibility varied, but later I got a better view when things shifted around.
Wilco set list:
1. The Late Greats
2. A Shot in the Arm
3. (I know you're not listening? unsure.bad fan!)
4. I Am Trying to Break Your Heart
5. War on War
6. Handshake Drugs
7. Jesus etc.
8. Walken
9. Airline to Heaven
10. Theologians
11. I'm the Man Who Loves You
12. Misunderstood
13. Forget the Flowers
14. Hummingbird
(encore)
15. Heavy Metal Drummer
16. (Carried Away? unsure/new?)
17. Kingpin
Or, if you're keeping score:
Four from
A Ghost is Born
Five from
Yankee Hotel Foxtrot
Three from
Being There
A shocking mere one from
Summerteeth
One from the Mermaid Avenue sessions (not California Stars, either!)
And possibly three new. Walken is definitely new (although they played it last time we saw them).
Anyway, despite our difficulties seeing, they were really on, and the older stuff and the brand new stuff all got as good responses as the last couple of albums stuff, so it's good. Crowd was really into it, musicianship was smoking. Wilco just does not disappoint. I dont' know how many times I've seen them now, must be going on half a dozen, and each time I'm reminded what a really, really great band they are. They're still doing that really huge thing at the end of "Misunderstood" - if you've seen them, you know. Nothing! Nothing! Nothing! It's awesome. And I always love "Kingpin." They didn't do any
truly
old stuff - I like when they do New Madrid, and Casino Queen is always fun, but at a festival, short set, etc. Boy, now I want to see a whole night again soon.
Some bad, distant photos: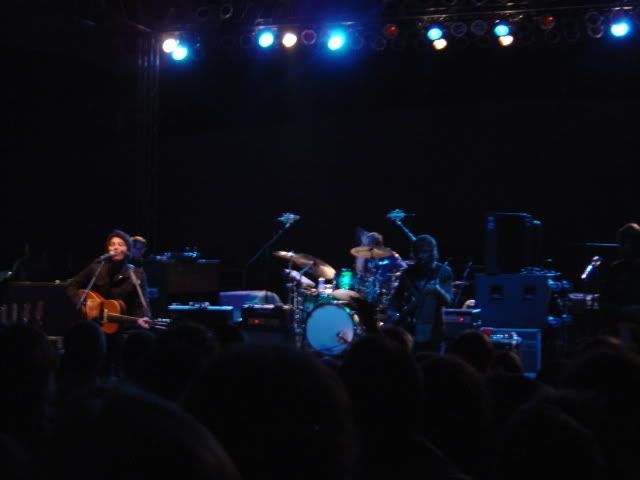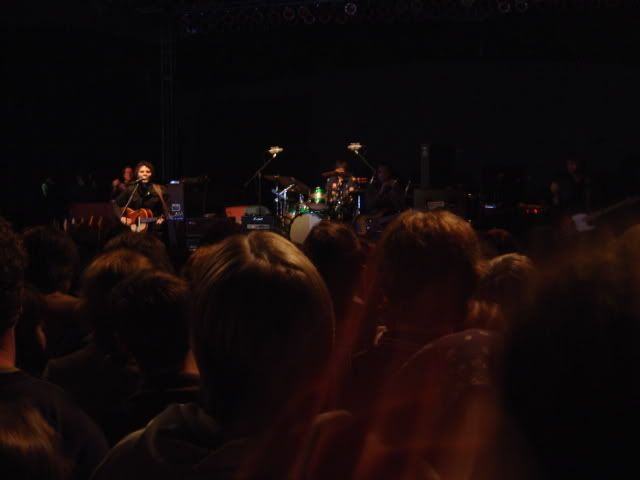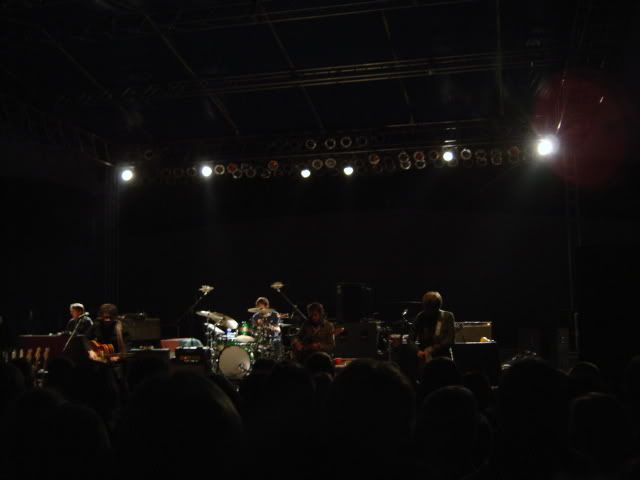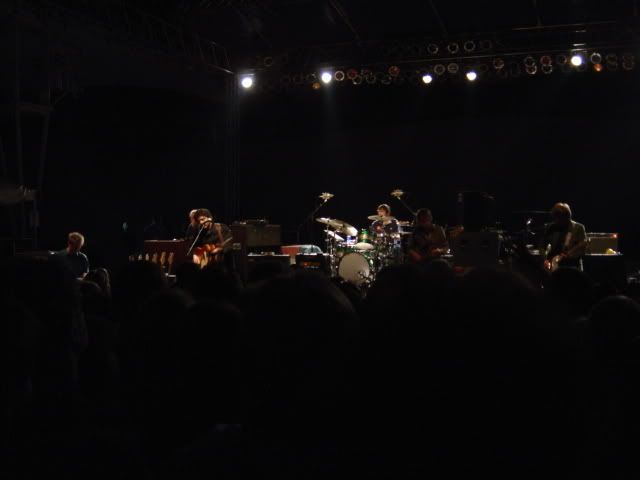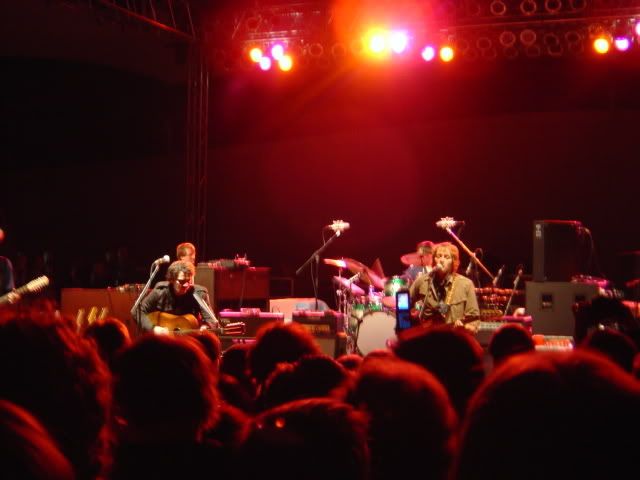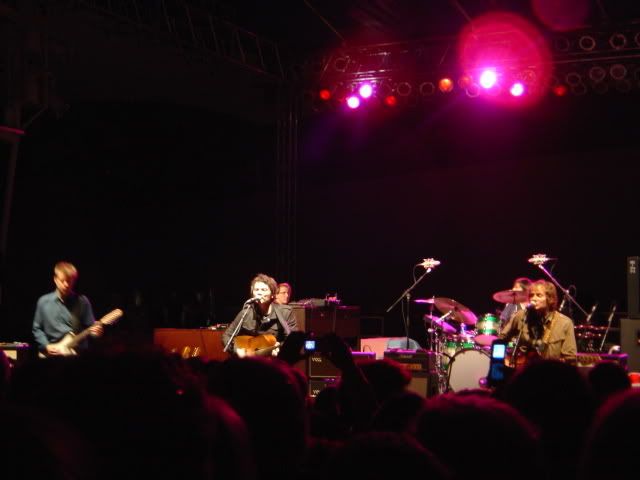 At the end, the crew was slow to come out, so I went down to try for a set list, thinking I'd still have a chance. No such luck, it was not to be, so I tried to get a picture of pedal board instead. No luck there either - couldn't get over the monitor.