So Wilco did a three-night stand in St. Louis at our favorite venue on a thursday, friday, and saturday may 15-17. J and I went to the 15th and 17th (I messed up the presale date for the thursday show, but then they added the friday show later yay!). Wilco is a Chicago band - yes - but St. Louis claims them very heartily. Jeff Tweedy's from St. Louis (basically; he's famously from Belleville on the Illinois side, but still) and the band is deeply embraced by STL.
So on the 15th we were thinking about finding seats, but even though we weren't exactly early, the Pageant continues it's weird-ass trend of everyone finding seats early and then filling up the floor slowly and late, and so J and I went down on the floor and, although the middle was pretty full, we had leisure to check out the right side and the left side before settling at the rail on the left, directly before guitarist Nels Cline.
It's not like I didn't respect Nels Cline before, but seeing him play from that vantage point was amazing. He moved abruptly far up my short list of guitarists. I mean, talented, yes, innovative, yes, but also just so freaking into it and crazy. You could tell he wasn't throwing himself and his guitars around to showboat, but just because he was so swept up by it. And no wonder. Cat got skilz yo.
I didn't keep a setlist because, well, once in a while I just want to have fun, dammit. Between taking pictures and keeping a list, sometimes my concert tasks get kind of annoying, or at least a bit distracting.
Here's a review
from the RFT, where I yoinked the setlist until I found that it was screwed up, so I went to
wilcobase,
which did not let me down:
1. Sunken Treasure
2. You Are My Face
3. Hummingbird
4. Ashes of American Flags
5. Company In My Back
6. Handshake Drugs
7. Pot Kettle Black
8. A Shot in the Arm
9. On and On and On
10. Misunderstood
11. Far, Far Away
12. Impossible Germany
13. New Madrid
14. Jesus, Etc.
15. California Stars
16. Walken
17. I'm the Man Who Loves You
18. Heavy Metal Drummer
Encore one:
1. Spiders (Kidsmoke)
2. Hate It Here
3. Kingpin
Encore two:
1. Passenger Side
2. Red-Eyed and Blue
3. I Got You (At the End of the Century)
4. Casino Queen
5. Outtasite (Outta Mind)
I mean just look at that freaking list will you?!? My god. We were virtually speechless when we got out of there what seemed like six hours later. It was fantastic, the best (up to that date) of the wilco shows we'd seen and just brilliant all the way around.
Nels' pedal board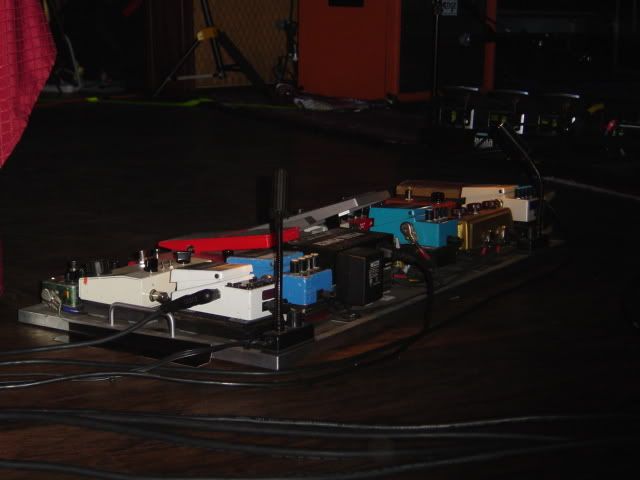 Nels himself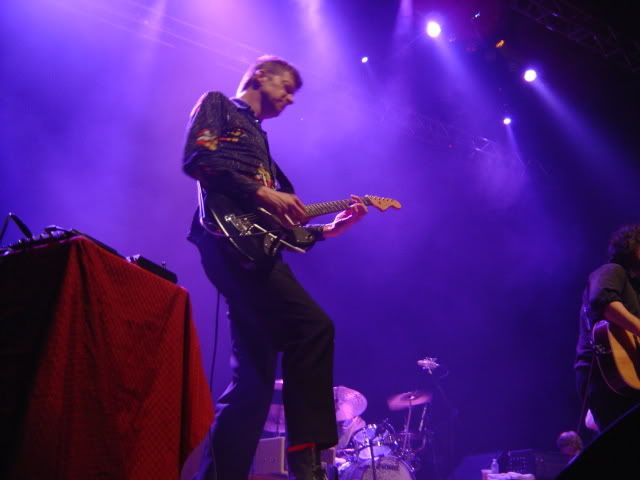 Nels w/lap steel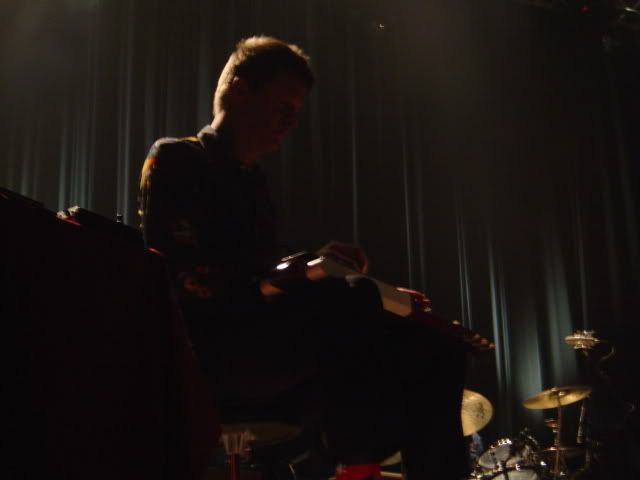 He was like a Dr. Seuss character, sort of, and seemed like he was about nine feet tall. Weird sumbitch.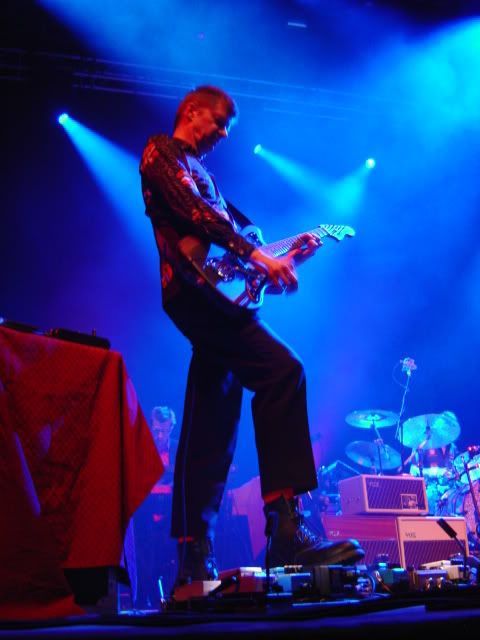 Jeff w/acoustic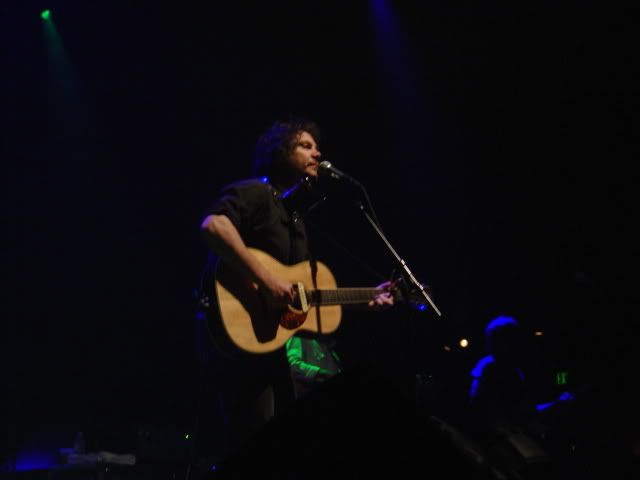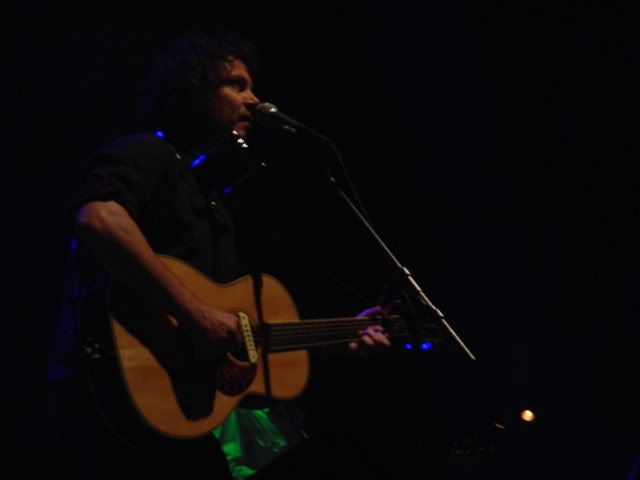 jeff & john singing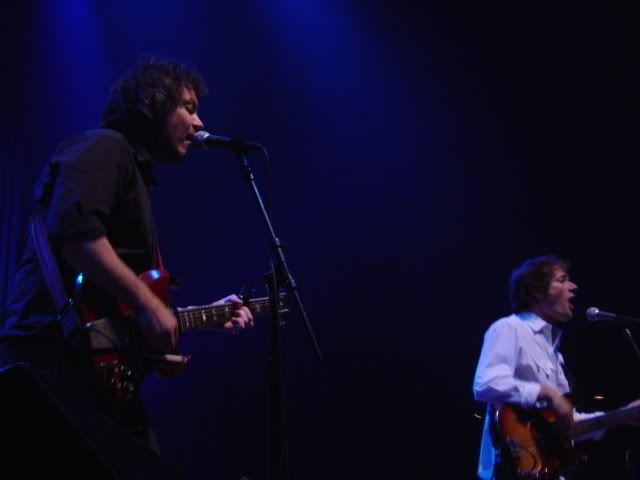 jeff acoustic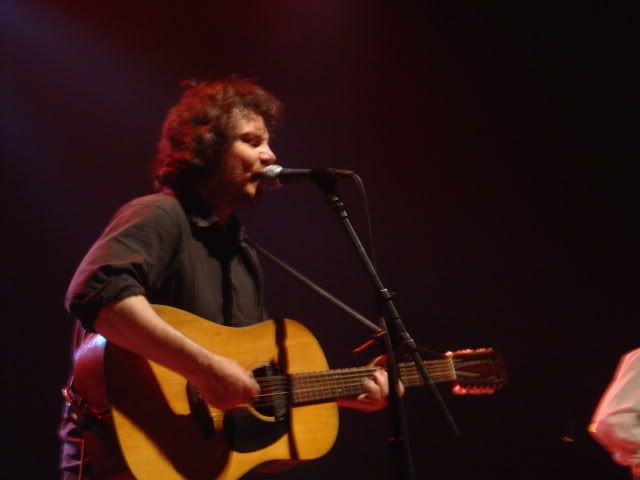 Jeff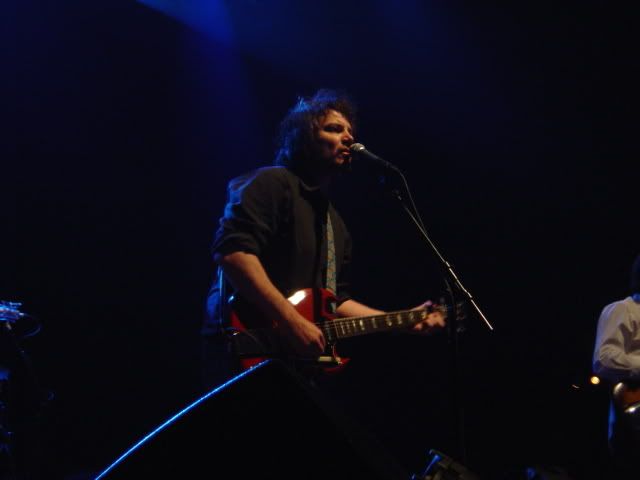 jeff & john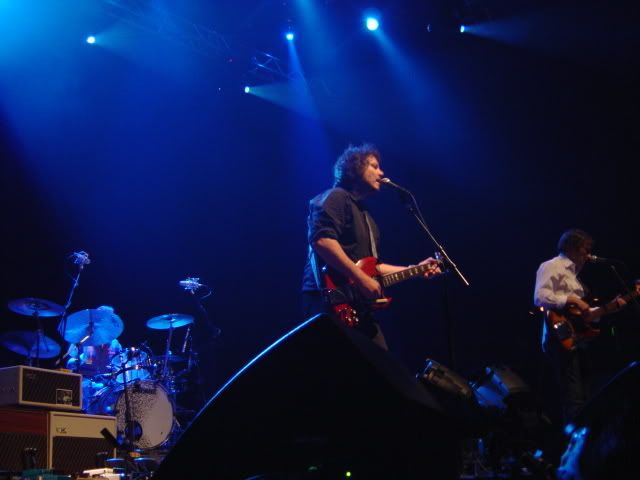 Awesome awesome show. Jeff makes the most hilarious audience banter. You feel like he's perpetually amused but always ready to tell you to fuck off if you need it. Or, in one case, "Sir. Please. put your shirt back on." He always gives his family a couple of shoutouts and usually plays Casino Queen for his dad. He said his dad had requested New Madrid this time because of the earthquakes this spring. "It woke us up in Chicago too."