Our fourth Drive By Truckers show was as wonderful as ever (okay, technically it probably tied for second, but the feelings I'm left with are as wonderful as ever).
We were early enough to run by a hotel we used to like; it used to be a Pear Tree (is that ramada?) but we couldn't find it online this time. Explanation: it's now a Motel 6. well, it was cheap, but ... they offered me a choice and I made the mistake of asking for a smoking room, because a lingering aroma of cigarette smoke doesn't bother me. Ugh, this room seriously reeked. Also dig this crazy bedspread.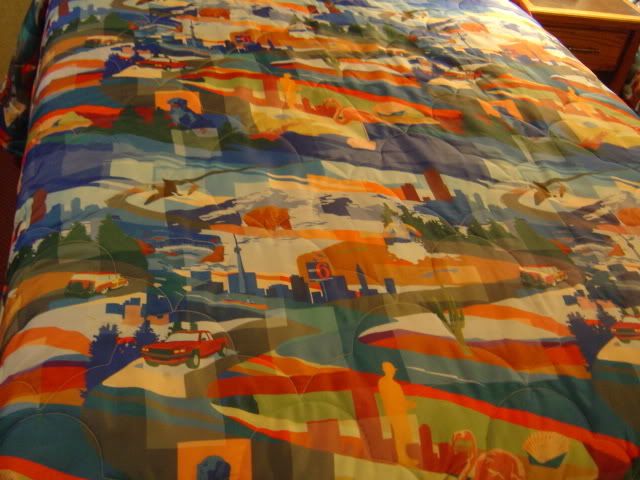 OUCH MY EYES IT BURNS ME
Well, now we know. It's too bad; we liked that place. I was also quite unimpressed by the lobby staff and their creepiness and general lack of teeth.
Anyhoo, the Pageant has a floor that's oddly slow to fill (I think we go to geezer shows) and GA seating behind that. We were hoping to get decent seats. We've been up close and personal with the truckers twice now and, honestly, we wanted to get to
hear
them; it's a tradeoff, but up close you can't make out the vocals because you're getting all stage sound and no mains. But I digress. The parking lot wasn't very full yet, and we hadn't walked far when J decided to leave his coat in the car. He took my keys and handed me the tickets; I tore the pair of them apart and tucked them away. We walked past a scalper or two and around the corner and to the door, where I found that I'd managed to
lose
the tickets. In less than a block. Well. We backtracked and found one of them, and the scalpers were still there, and the tickets were only $20 anyway, so all was not lost, but ... *FACEPALM*. I mean, really. We all learned a valuable lesson: I learned that I can't be trusted with tickets, and J learned why I always make him be in charge of the tickets!
Anyway, the seats were fairly full, but we managed to find a great little area with unobstructed view and right at the edge of the section instead of the middle. The opening act - no pun intended - the Felice Brothers were interesting. I would really like to hear more of them. They were a five-piece, three of whom I think were actual brothers: drummer, bass, singer/guitarist, big John Popper-like party who played accordian and keyboard, and auxiliary singer who played washboard and stomp board (although you couldn't really hear the stomp board well). They were kind of hard-driving like the Avett Brothers or Old Crow Medicine Show.
Truckers set list:
1. The Man I Shot
2. Three Dimes Down
3. Putting People on the Moon
4. Carl Perkins' Cadillac
5. Two Daughters and a Beautiful Wife
6. Daddy Needs a Drink
7. A Ghost to Most
8. I'm Sorry Huston
9. Sinkhole
10. Ronnie & Neil
11. Self Destructive Zones
12. Home Field Advantage
13. Road Cases
14. Checkout Time in Vegas
15. The Righteous Path
16. Lisa's Birthday
17. The Living Bubba
18. Shut Up & Get On the Plane
19. Lookout Mountain
20. Let There Be Rock
-encore-
1. Marry Me
2. 18 Wheels of Love
3. Women Without Whiskey
4. Eighteen (Alice Cooper cover)
5. Buttholeville/State Trooper
6. People Who Died
I always like the classics: People on the Moon, Carl Perkins, Sinkhole, Ronnie & Neil, Living Bubba, Shut Up & Get on the Plane, Lookout Mountain, and Let There Be Rock. I LOVE Sinkhole and Lookout Mountain. Among the new stuff, 3 Dimes worked really well, and I love Ghost To Most, it's one of my favorite of the newer ones. I'm Sorry Huston went well too.
The encore was exciting and very traditional Truckers. I had never gotten to see '18 Wheels of Love' before. Actually I filmed it, but it was pretty dark, and, well, we have dialup, so it would take forever to load, and it's like 12 minutes long, and youtube has a ten-minute limit, so we'll see. (I also filmed The Living Bubba, but I'm having trouble getting it to load despite leaving it to do so overnight and again this morning while I was at work.) Patterson added a whole section before the 'song' kicked in about Chester and a health crisis he'd had and recovered from. It was awesome. They were really smoking. I could live without Buttholeville/State Trooper, but they were really into it, Patterson passing the bottle of Jack out to the crowd (and getting it back), Shonna on her knees at one point, Brad kicked a cymbal and drum off the riser, and just when you thought they'd left it all on the stage Patterson whipped into People Who Died in a speedy frenzy. I mean, I couldn't really understand a word except DIED! DIED! It seemed really unplanned, and it was great.
Man, I love the Truckers.
Here are a few pictures and a (dark, but it lightens up toward the end) film of Two Daughters and a Beautiful Wife.
Cooley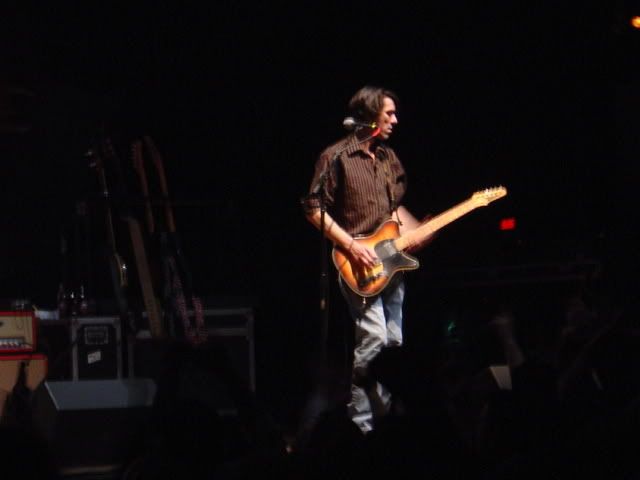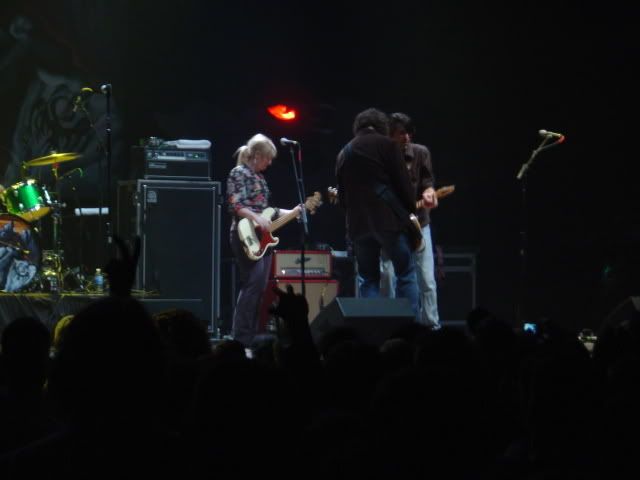 Patterson, showing the backdrop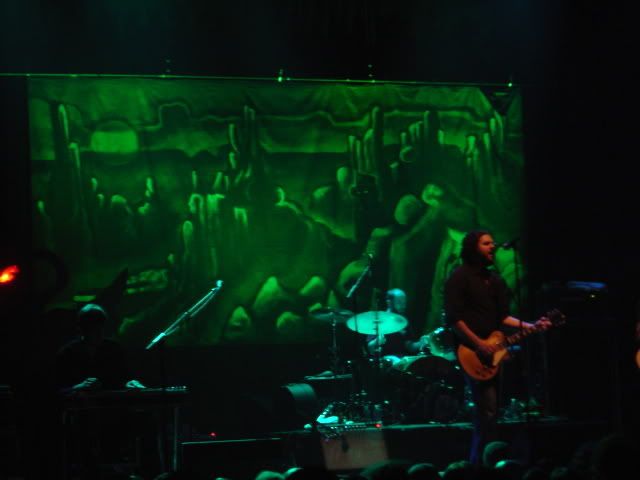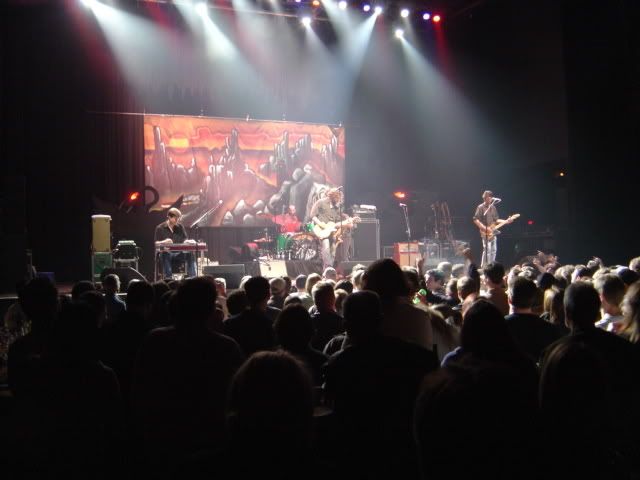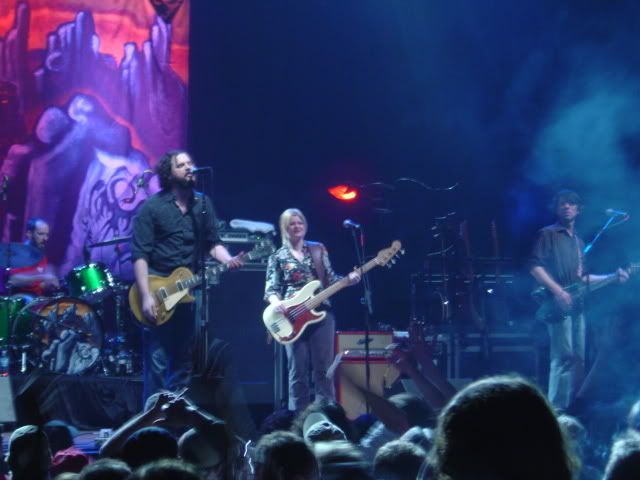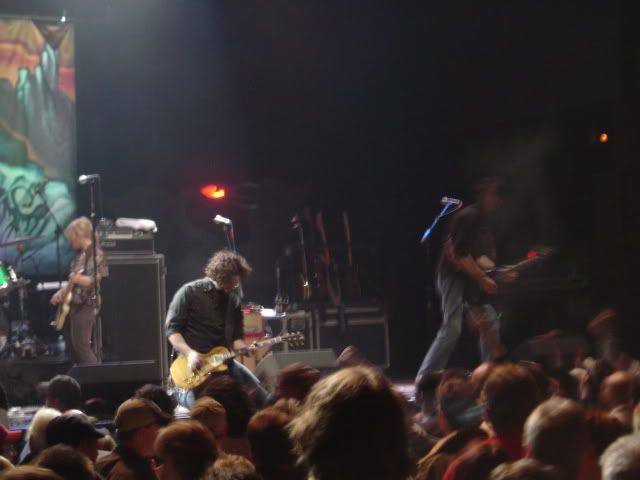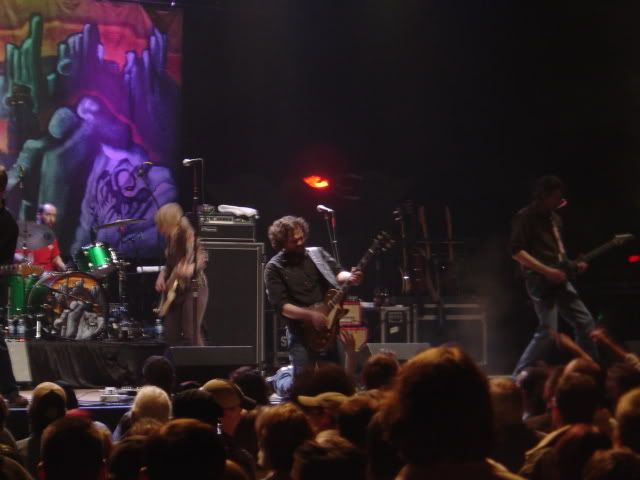 Two Daughters