Comments on the 7/2 Police show, set list, four bad pictures, and links to some other reviews and stuff.
We got a nice early start, and luckily we thought of the possibility of there also being a baseball game, because the ballpark and the venue, while not right next to each other, are both kind of downtown. So there was some traffic, but at a certain point we passed the stadium and were heading away from it, so that helped. We parked in kind of a dubious area - it saved $5, but next time I'll probably splurge.
Our seats were pretty bad. If our seats had been really great, I'd keep mentioning it, as in "I can't believe what good seats we got" and "we were so lucky" and so forth, without intending solely to boast - it makes a big difference in how you perceive the whole event, so I hope I can continue to mention that our seats were pretty bad without intending solely to bitch. Anyway, I was pleased to see that there was a nice open stage and our view was pretty unobstructed, although one corner of a video screen was cut off by a bank of speakers. I like the open stage setup.
The opening band, Fiction Plane, was a three-piece with Sting's son on bass and vocals. We weren't very enthusiastic - way to lose credibility, really, to open for your father's really big huge famous band - and the first couple of songs didn't really grab me, but then they kind of found a groove and won me over, at least to a not-going-to-rush-out-and-buy-the-cd kind of extent. The kid's voice was pretty good; if he wasn't Sting's kid, I might not have made the connection, but knowing it, he sounded kind of stinglike in the way Jakob Dylan reminds you of the old man without really sounding like him. The songs that I really liked, I hate to admit, were kind of Police-like; changes, movements, beats, kind of progressive. But they had a, not grungier, but a more straight-ahead rock sound generally. The kid had a good presence, but it was almost too much for the circumstances - he jumped off the drum riser a couple of times and actually off his bass stack twice. Enjoy your original set of knees while you still have 'em, son! I assume most of their stuff was original, but they did actually do one Sting song. Neither of us knew what it was, but we both knew it was a Sting song (and I think the kid announced it. He was talking, we couldn't understand, and he said 'and this is one of those songs' or 'and this is one of his songs' or something).
The Police really did a good show. We knew that Andy and Stewart had had projects but hadn't been really playing for some time (it's funny, actually, I read an interview with Stewart in which he said they basically hadn't touched their instruments in years, but I thought Andy Summers had put out some jazz albums, and there was the whole Oysterhead project and the aborted Doors thing from Stewart, but anyway). Neither of us are really Sting fans, so we'd heard his solo hits that used to be inescapable on the radio from the early 90s and that's about it. So it was a relief that the musicianship was high and that Sting's voice was all right. By which I mean, he still sings very well, and he still sounds very much like Sting. It wasn't one of those circumstances where you go, "Boy, he really can't sing anymore." But also many of the songs were in a lower key or had the vocal line rearranged to accommodate the changes his voice
has
undeniably undergone. You couldn't say "Wow, he really still hits 'em!"
In fact, a lot of the reviews we're reading have discussed how "Don't Stand" hasn't been working really well, and although I think it might benefit from a more straightforward arrangement just for kicks - J (who can hear music stuff I can't) said he thinks a lot of why it seems strange is that Sting seems to be singing a lower harmony part instead of a melody line, which (after he said it) I think is true.
Nevertheless, his voice is still unmistakeably his, and it was nice to have an occasional brief reminder of why I thought he was extremely sexy nearly 20 years ago. He roamed a little on the stage walkways, but not a ton, and turned around to the back-crowd sometimes too, with an occasional smile. Andy played with a pretty serious face, but he hopped around and jumped off the drum riser and went over to Sting (and got a small Bono-type nuzzle or two, but less extravagant) and generally had a good time of it.
Stewart had me mentally practicing writing "Mrs. Occula Copeland" in fancy cursive all day. :-) So everything I say here is with affection.
I mean no disrespect to the other two when I say that, for me, the Police is most definitely The Stewart Copeland Show. He came out in some kind of ... track suit from 1980 ... wearing gloves and a black headband and a headset mike and glasses and ... basically, he had a lot going on in the head region. I love that he plays traditional grip, I've always liked to see people use traditional rather than matched. Our tyrannical band teacher would
never
have let us use matched grip even for a moment. Hell no. Anyway, Stewart is the same old enthusiastic madman I've always found so endearing. He had a platform behind him with two racks of percussion (on either side) and a big gong and stuff. The layout and setup of all that stuff is pictured, listed, and described
here
, so take a look! It's a hoot. The platform raised when it was needed and he had to scramble back and forth pretty hastily.
The set list was wonderful. For some reason "de do do do" particularly pushed my buttons. I told J maybe I just finally 'got' "de do do do" or something. hah. and "King of Pain" reminded me of the day I sat down with the cassette player and wrote down the words. Boy, did that take a long time. I remember the sections that gave me particular trouble, too.
I do love "Canary in a Coal Mine" and "Murder By Numbers," which they didn't do but those aren't ones I expected them to do anyway. I'm just sayin'. the only real big number missing was probably "Spirits in the Material World." On the other hand, the reviews I've seen have described two encores, and they did three in St. Louis, although the first one was only one song. I wondered whether there was some kind of glitch, but if so you couldn't tell. It only made the encores seem longer, so that was cool. Overall we'd have felt more involved if we had better seats, of course. Bad seats make us both feel more detached, more like spectators than participants. And the sound wasn't that great from so far. You really couldn't tell what people were saying when they spoke. And you're watching the video screens a lot and have to remind yourself to actually look at the real live band with your real eyes. but the show was good and we had a good time and were happy we went. And we were in the car by 11:00 and home by 12:30.
Of course, these are all just opinions based on what I experienced and what I particularly like and dislike.
PSA: shirts were $35.
I was so excited at first that I just wrote down whatever crap I thought of for the songs because I knew I'd know what I meant. Such as "SOS" for "message in a bottle." lol.
set list
1. Message in a Bottle
2. Synchronicity II
3. Walking on the Moon
4. Voices Inside My Head/When the World Is Running Down
5. Don't Stand So Close to Me
6. Driven to Tears
7. Bed's Too Big Without You
8. Truth Hits Everybody
9. Every Little Thing She Does Is Magic
10. Wrapped Around Your Finger
11. De do do do, de da da da
12. Invisible Sun
13. Walking in Your Footsteps
14. Can't Stand Losing You
----
15. Roxanne
----
16. King of Pain
17. So Lonely
18. Every Breath You Take
----
19. Next to You
The view from our seats. We were a little early. *crickets*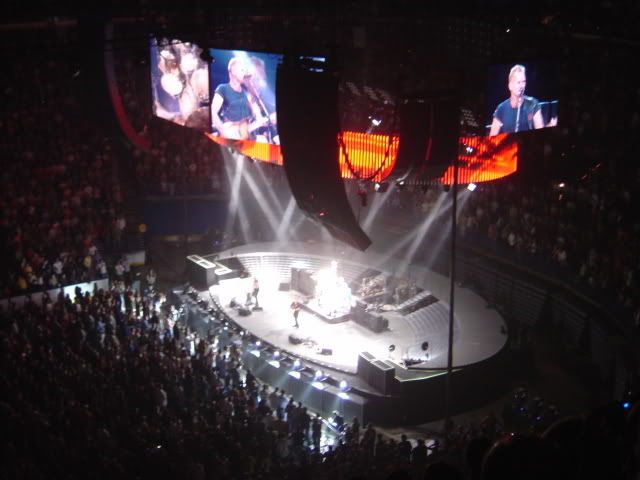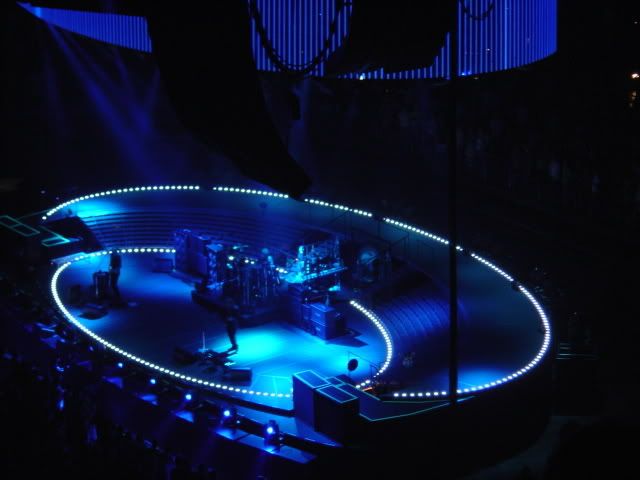 Links
a review of recent show in New Orleans
from the New Orleans Time-Picayune.
Interview with Stewart Copeland
from the St. Louis Post-Dispatch some time before the show.
Review of Monday's show
from The St. Louis Post-Dispatch.
stewart copeland dot net
Stewart's drum and percussion setup
, also linked above.